There are several reasons why you would want to sell your wedding ring. Perhaps you're in huge financial trouble, or you could be going through a divorce. This feature answers the ultimate question of where to sell wedding ring and make the most money.
Where Can I Sell My Wedding Ring For The Most Money
Do you find yourself asking, "Where can I sell my wedding ring for the most money?" Without further ado, we're giving your our top recommendations.
Worthy.com
If you want a hassle-free option to make a profit out of your wedding ring, Worthy.com is the answer to your "What is the best place to sell my wedding ring" question.
You simply have to describe your ring and schedule a secure shipment. Once it reaches their office, they will do all the work for you — they will clean it, have it photographed, graded, and listed for auction. They will vet the bids, and you will ultimately decide who the buyer will be.
eBay
eBay is an online marketplace where you can sell about anything — including your wedding ring. Because it's a wildly popular platform, you can take advantage of its millions-strong audience.
Sign up for an account, provide the necessary details about your ring (including its current condition), upload photos, and wait for someone to buy it. If you're selling a ring, they will take 12.9% of the total sale if it reaches $7,500; 7% if it's beyond that.
Facebook Marketplace
Facebook, today, is more than just a social networking site. If you want to sell items — even if it's something like a wedding ring — you can count on their Marketplace page to find potential buyers. You can also join public or private Facebook groups to buy and sell jewelry items.
While selling on this platform is free (you won't have to pay them anything), be careful as scammers and lowballers run aplenty here.
Circa Jewels
To sell via Circa Jewels, you must send photos and information about the ring, and you will receive an estimated offer. If you're amenable to their quote, you just have to request a free shipping kit and ship the ring.
Upon inspection and evaluation, they may give you an updated quote. If the amount is alright with you, they will already pay you via check or bank transfer.
WP Diamonds
This luxury goods platform gives you a fast and secure way of selling your wedding ring (or any other jewelry piece) online.
WP Diamonds' process is similar to Circa Jewels. The best thing about them is that they won't ask you for any seller fees. They also cover the shipping — including the delivery if you want to have your ring shipped back if you're uncomfortable with their new quote.
Cash for Diamonds (Diamonds USA)
Diamonds USA gives you a free appraisal kit when you fill out their form. Then, they will shoulder your shipping if you're ready to deliver your ring to them for inspection and assessment. You will receive an offer; if you accept, the payment will be processed within one day.
Cash for Gold USA
If your wedding ring has at least 8k gold, you can sell it to Cash for Gold USA. They cover free shipping (courtesy of FedEx) and insurance of up to $5,000 when you deliver your ring to them. Once they receive your ring, you will get a quote within 24 hours. 
I Do Now I Don't
I Do Now I Don't is a buying and selling website where you can sell luxury items like wedding rings to direct buyers. As a seller, you can set your own asking price — giving you the liberty you need to make the most of your transaction.
You can also sell your ring directly to the platform. They got third-party GIA-certified experts to evaluate the rings. But, usually, they pay 50 to 75% of the ring's retail price.
Pawn Shops
Want to sell your ring fast (read: same day) and without stress? Try visiting a pawn shop near you. Though they're quick to buy your jewelry item, they only usually pay 20 to 50% of the ring's original price.
Consignment Stores
Consignment shops aren't limited to selling common retail items like clothes and home goods. Some stores also cater to wedding rings. However, they could charge up to 60% of the total sale.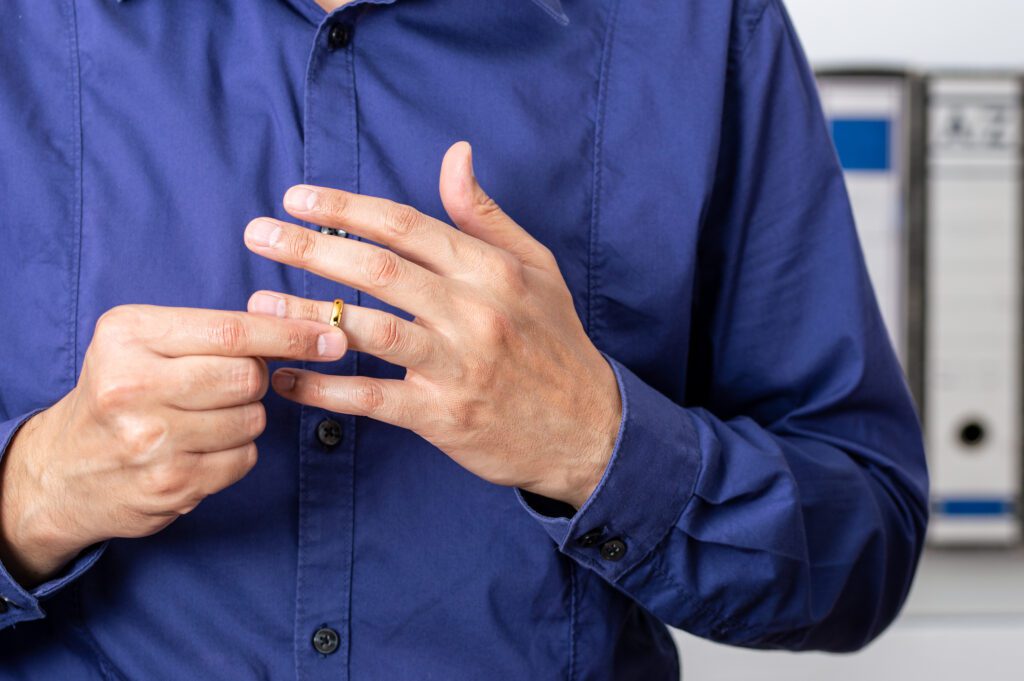 Why and When Should You Sell Your Wedding Ring?
Selling a piece of jewelry as important and emotionally resonant as a wedding ring doesn't simply happen on a whim. It's a personal decision that can be traced back to several reasons.
One of the biggest reasons is divorce. If you and your partner decided to part ways, it only makes sense for you to ask where to sell wedding ring after divorce (the only exception is when the wedding ring you received is a family heirloom; in this case, you need to return the ring to your partner's family).
You can do this to help you financially move on with your new life or just as a symbol of you leaving behind that chapter of your life.
Another reason is if you're having financial troubles. Wedding rings, after all, are valuable pieces of jewelry. And they can fetch a good price (albeit not equivalent to the original buying price) if you will sell it to reputable marketplaces or direct buyers.
If your partner passes away and you could use that money to move forward, you can also decide to sell your wedding ring.
What Determines The Resale Value Of Your Wedding Ring?
The best place to sell wedding ring online depends on what experience and price point you're looking for. Generally, you can earn 40 to 75% of the ring's original value. Also, expect that what you'll get will be lower than the appraisal value (one reason is that the buyer will take away the costs they'll need to recycle or resell the gemstone).
To make the most money no matter your choice, you must know what affects your wedding ring's resale value.
Gemstone age. A ring with vintage or antique gemstone/s can fetch a higher price than brand-new ones.
Design. Does your ring have a unique setting or style? Is its design a standout from all other rings in the current market? If so, you can expect your jewelry to have a relatively higher resale value.
Brand. Like any other commodity, a ring's value heavily depends on its brand. If a big-name jewelry brand makes it, the better the market's perception will be and the higher the price it will fetch.
Current condition. All of the factors mentioned above won't be as impactful if the condition of the ring you're selling isn't good or excellent. This is why you have always to keep your jewelry pieces clean and well-maintained.
How Long Does It Take To Sell A Wedding Ring?
If you are to sell wedding ring online, you need to wait a few weeks (or even months) before you can get your ring sold or auctioned off. Once the ring is sold, you can expect to get paid in a couple of days or within 24 hours.
If you want to get rid of the ring immediately, consider going directly to a jeweler, jewelry shop, or pawn shop. The downside is that your earnings will be significantly lower.
5 Tips When Selling Your Wedding Ring
Getting rid of an important piece of jewelry is a big decision. Make sure you're really ready to sell your wedding ring before you proceed. But if you've already decided to do so, keep in mind these quick selling tips.
Request an appraisal. First off, you have to understand the value of your wedding ring. You can research online about rings similar to yours, but to get a better estimation, you must visit a local appraiser or jeweler.
Secure pertinent documents. Collate everything you know and have about your ring. This includes your diamond's GIA certificate, grading report, box, and receipt.
Clean your ring. As with any other thing you sell, you must make your ring presentable. Clean it using soapy water and a soft toothbrush. You may also want to photograph it well because you'll mostly need photos when getting quotes from sources.
Get multiple quotes. Don't just get one price estimation from one buyer. Get quotes from at least three to help you choose the best offer. Typically, you'd only need to share basic details about your ring before you can receive a quote.
Choose your selling platform. Deciding where to sell wedding ring depends on many things. Do you want to fetch a reasonable price? If so, choose the one that offers the most money. If you want to sell your ring as quickly as possible, opt for a platform or buyer that won't let your ring sit in the market for too long.