Wedding rings are no ordinary pieces of jewelry. As a symbol of your and your partner's love and commitment to each other, they are physical reminders of the promises you will utter on your big day. Here are wedding rings engravings ideas to keep these personal items even more unique and special.
Wedding Rings Engravings Ideas
You'll be surprised at how in 30 characters or less, you can capture the love you share. This is the essence of ring engravings.
But when choosing an engraving, make sure to keep it short and sweet — and triple-check it before and after the jeweler engraves it. Always remember that what matters most is the thought, feelings, or sentimental value attached to the inscription.
Are you and your spouse (or spouse-to-be) still looking for ring engraving ideas for wife and husband? We've got 50 recommendations, ranging from romantic and traditional to funny and utterly unique.
Romantic
Marriage isn't just about love. After some time, the magic could wear off, and that's when your commitment to be there for each other will really shine through. If you want to be reminded of the vows you said on the altar, choose romantic inscriptions for your wedding rings.
Beyond the usual "I love you," here are some statements, words, and phrases that will send your heart aflutter.
Always and forever
Forever begins
Happily ever after
Keeper of my heart
For you alone
To my soul mate
Worth the wait
The start of something beautiful
Traditional
Traditional wedding rings engravings ideas are popular for a reason. They are timeless and earnest — much like the love you want to keep alive with your significant other throughout the rest of your life.
Are you the kind of couple who stick to traditions? Below are engraving ideas that will appeal to you.
Initials or monogram
Last name
To have and to hold
Till death do us part
Written in the stars
Eternally yours
God for me provided thee
Bible verses (for example: "Do everything in love" from 1 Corinthians 16:14 or Love is patient, love is kind from 1 Corinthians 13:4)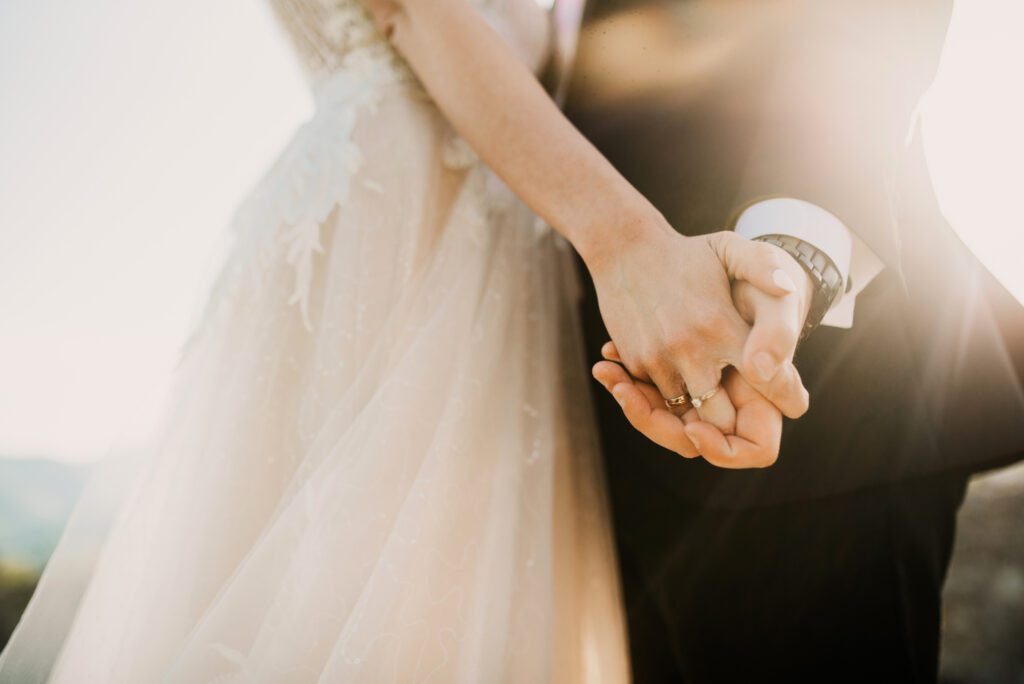 Numbers and Symbols
Sometimes, you don't need words to express your love for each other. You can count on numbers, symbols, and icons to memorialize your marital relationship. From the traditional wedding day to the place where you first met, here are some beyond-word engravings to consider.
The date you met
The date of your wedding
The date you first said "I love you"
The date of your first kiss
Infinity symbol
Yin-yang symbol
A map of the first place you met or any other place special to you
Funny
What's marriage without heaps of laughter? Put a sweet curve on your face each time you wear your wedding rings when you have them inscribed with something funny.
More than being a practical method of making each other smile, rings with funny phrases are an awesome emblem of the lighthearted bond you share. Check out these statements if you want to go down this path.
Finders keepers
Non-returnable
The better half
You're stuck with me
Legally mine
We did it!
Why is this off?
Put your ring back on
Complementary and Coordinating
Tying the knot celebrates the union of two souls. Represent that idea by engraving your rings with complementary and coordinating messages.
Got no clue about what these inscriptions are? Scroll through and read some of the best split-message engraving ideas.
Mr. (Surname); Mrs. (Surname)
Little spoon; Big spoon
To infinity; And beyond
To the moon; And back
I found my other half; My other half found me
I love you; I know
Joined in love that will not part; Hand in hand, heart to heart
Using Another Language
Wedding engravings aren't limited to the use of the English language. If it's significant to your relationship — for instance, you met in a foreign country or one of you has a different nationality — you might want to consider non-English inscriptions for your rings. You can also opt for this if you simply want to veer away from the usual English engravings.
We've rounded up some choices below.
Amor vincit omnia (Latin for "Love conquers all)
Semper fidelis (Latin for "Always faithful")
Pour tous jours (15th-century French for "For all days")
Je t'aime (French for "I love you")
Amore mio (Italian for "My love")
Myn genyst (Old German for "My heart")
Saranghae ("Korean for I love you")
Unique
There are different reasons why you might want to inscribe something on your wedding rings.
But if you want a unique ring engraving to commemorate your unique relationship with your spouse, these are some ideas you can try.
Your nicknames or terms of endearment
An inside joke that only the two of you know
Song lyrics (for example: "Truly, madly, deeply," "Happy together," or "All you need is love." You can also choose this as two-part engravings, such as "You say it best; When you say nothing at all")
Poetry (for example, Pablo Neruda's "Only You and I, My Love" or Rumi's "I Am Your Mirror")
Though it's not necessarily an inscription, you can inlay a meaningful diamond or gemstone instead to make your rings unique
How To Get Your Wedding Rings Engraved?
There are plenty of wedding ring engraving ideas, but to add these inscriptions to your rings, jewelers usually follow one quick and precise process: the use of a laser beam.
Using laser, which is about the size of a pen, master crafters can engrave personalized alphanumerical characters on the ring's metal (usually in the inner part, the one that touches your skin).
Most reputable jewelry shops offer complimentary engraving services. For instance, James Allen can engrave up to 20 characters for free on most of their engagement and wedding rings.
When To Get Your Wedding Rings Engraved?
Choosing one among the many wedding band engraving ideas for him and her entails careful consideration.
If you're wondering when's the best time to settle with one and have that engraved in your rings, the timeline ultimately depends on your preference. For instance, if you want your wedding rings personalized during your wedding, inform your jeweler about it at least two months before the event.
However, you can always opt to engrave it after your wedding day. Just remember: Though the process is quick and straightforward, you might still wait a few weeks or even a month before the engraved rings are returned to you.
Keep in mind that engraving only happens after any jewelry piece is made. So while jewelers are manufacturing yours, take the time to thoughtfully pin down the engraving you and your significant other would love to have on your rings.
How Much Does Wedding Ring Engraving Cost?
Engraving your wedding rings is relatively affordable. On average, jewelers charge about $50 to $100. Nonetheless, the final price will depend on the number and type of characters you want and whether the engraving was done by hand or with the help of a machine.