There's something captivating about things drenched in that distinct vintage aesthetic. It's no wonder many couples who are about to get married opt for vintage wedding ring designs. These rings are classic, eye-catching, and downright romantic.
This article rounds up 25 vintage-style wedding rings you can buy online.
Why Wedding Rings With Vintage Designs Are So Popular Today?
Vintage-style wedding rings favor intricacy over a polished look. And their handcrafted details add to the rings' one-of-a-kind charm.
As these rings' beauty is timeless, many couples see buying a vintage wedding ring and band as a significant investment. Today, you can buy one at different price points, ranging from under $100 to over $7,000.
Vintage rings come in different cuts, shapes, sizes, and styles. The most popular vintage-style cuts include emerald, cushion, and oval. The rings aren't also limited to traditional diamonds. You can find vintage-style rings that feature colored gemstones like sapphire and aquamarine.
To know if this type of ring is for you, check out and try on various styles. Remember that your wedding ring is something you'll keep for the rest of your life. So you want it to reflect your sentiments well. Of course, technicalities like fit and comfort should also be part of the picture.
3 Tips When Buying Vintage Style Wedding Bands
Given their continually rising popularity, vintage ring designs are everywhere online. Here are the top three things to consider when buying vintage-style wedding bands.
Choose a style that resonates most with you
It's you who truly knows what you want in a wedding ring. Do you want to wear a ring with striking geometric patterns? Then Art Deco-style rings are for you. If you love all things ornate, Victorian rings will surely send your heart aflutter.
Brush up on your 4C knowledge
Style is just one part of the story. As it is the stone that attracts most people to a ring, you must know the 4Cs of diamonds: the cut, carat weight, clarity, and color.
Most old-fashioned rings have lower gemstone grades: They don't hide flaws well, and they don't have that much brilliance. But all of these contribute to the unique appeal that they have.
Only shop from reputable places
To ensure the quality of the vintage rings and bands you'll buy, order only from reputable jewelry shops. Many of these brands have websites, making the buying experience easier for you.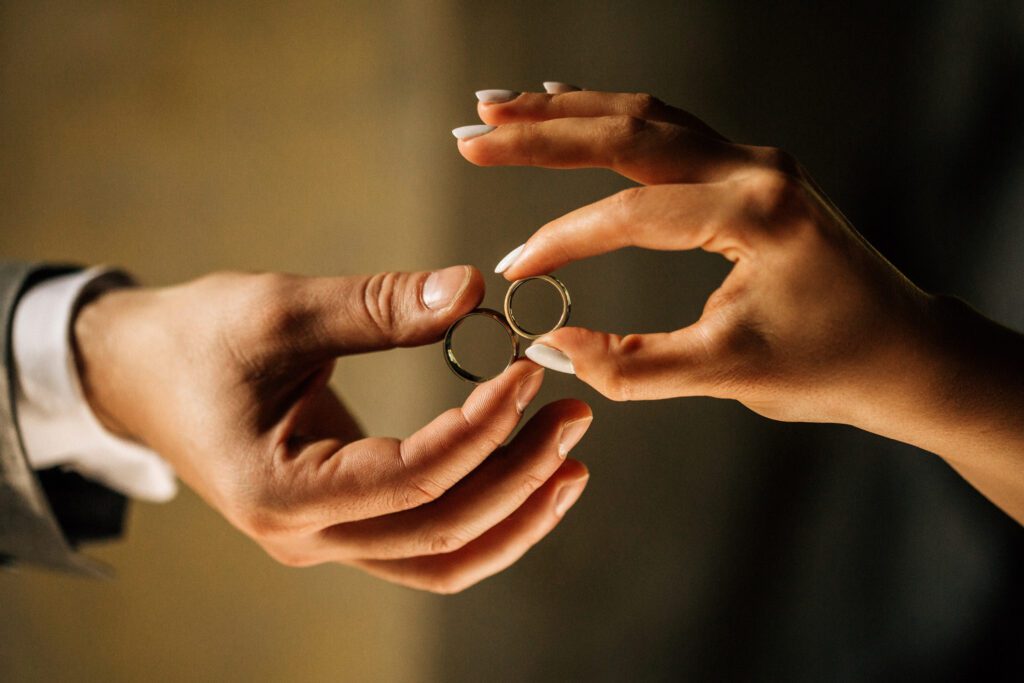 25 Wedding Bands With Vintage Wedding Ring Designs From The Best Jewelers Online
Even if you've already narrowed your wedding ring choice to something vintage, picking "the one" is still challenging. Here are our top vintage wedding band design recommendations to make it easier for you.
James Allen
James Allen is one of the top and most respected e-commerce jewelry stores today. If you are looking for an online seller that will not make you worry about the 4Cs and overall quality of their wedding bands, it's James Allen.
Sail into forever with this wedding ring, which features eight petite marquise cut diamonds set diagonally to achieve a unique current effect.
Flaunt a vintage glamor with this ring, whose embellishments are tapered baguette diamonds. This wedding ring is best purchased with a matching vintage-style engagement ring.
This is one of those vintage wedding ring designs that blend the beauty of diamonds and sapphires. The fine milgrain details complete the ring's exquisite look.
Give off subtle elegance when you choose this wedding ring (complete with a matching engagement ring). Its beaded band adds a beautiful twist to the already stunning piece.
This ring boasts tasteful milgrain detailing and leaf-inspired elements that accentuate the center stone — which can be round, oval, or marquise.
Clean Origin
Ethics is at the core of the Clean Origin brand. If you are interested in the best lab-grown diamonds, this is the brand to check out.
With lab-created diamonds resting on a channel setting, this petite band has a classic look and comfortable fit.
This bridal set dazzles with a sweep of diamonds that adorn both the wedding and engagement rings. The concave wedding band complements the other ring's round center stone.
This wedding and engagement ring set showcases a symphony of vintage-inspired elements. It has a total of 35 gemstones; for the center stone, you have eight cut choices, including cushion, emerald, and radiant.
This eternity band has 48 diamonds set on graceful milgrain frames.
Two rows — one, a plain high polish gold; the other, adorned with lab-created diamonds — smoothly intertwine to give your finger a simple yet elegant vintage touch.
Blue Nile
Blue Nile vintage wedding ring designs are legit (so are the rest of its amazing collection). The brand has an impressive collection that can meet the needs of couples in terms of style and price point.
Deviate from the classic ring and consider this curved jewelry piece, embellished with a total of 49 round cut diamonds.
Want a wide ring for your wedding? This 10mm-wide piece is sure to catch the attention even of non-jewelry enthusiasts. It has an openwork pattern that is as intricate as it is stunning.
Want a stackable band that's simple but beautiful? The milgrain detail and delicate swirls give this ring that irresistible charm.
This eternity ring displays an elegant loop of Asscher cut diamonds, styled to create that memorable Art Deco aesthetic.
A breathtaking lace design serves as the home of the tiny round diamonds of this vintage-style diamond ring.
Brilliant Earth
Brilliant Earth is another reputable online jeweler with a fantastic selection of wedding rings in all shapes and sizes. Below are some of their vintage-style wedding bands for sale.
This ring is designed to stand on its own or complement a matching engagement ring (or any other ring). Pear diamonds are found on the top half of the band, but the main attraction is the five-diamond crescent design in the middle.
Seven marquise cut diamonds help this ring give your finger that romantic glow. The delicate milgrain detailing around each diamond makes the piece even more attractive.
Apart from the graceful sparkle provided by the round diamonds that adorn the upper part of this ring, it has delicate scrolls around the side of the band to complete its old-world appeal.
Searching for a ring with a distinct geometric beauty? The top half of this ring is home to tapered baguette diamonds. The style is unmistakably Art Deco-inspired but has a contemporary appeal.
This ring may be slender, but its lotus-inspired impressions — accentuated by clusters of round diamonds — are enough to dazzle anyone who sees the ring.
Zales
Go beyond the usual luxurious diamond and opt for the confident charm of sapphire. Bright blue sapphires flank the center stone. On the side are smaller white sapphires, whose brilliance is elevated by the bordering milgrain details.
With leaves adorned by single diamonds, vine design takes center stage in this vintage-style band.
Offering thrice the sparkle, this wedding band boasts three rows of shimmering round diamonds.
Intricate and romantic, this wedding band has marquise-shaped diamond duos set alternately with single diamonds.
Is it your dream to wear one of the more enchanting and glamorous vintage wedding ring designs? Look no more: This multi-diamond ring is the realization of that dream. It's complete with a milgrain border, scrolling ribbons, and rose gold flower details.