Are you looking for the perfect way to propose on New Year's Eve? 2023 is just around the corner and it's time to start planning! Whether you have been together for years or just a few months, popping the question on New Year's Eve can be an incredibly romantic gesture. intimate dinner proposals to large-scale public displays of affection, there are plenty of ways to make your proposal special and memorable.
Here are 11 unique ideas that will help you create a magical moment this coming New Year's Eve.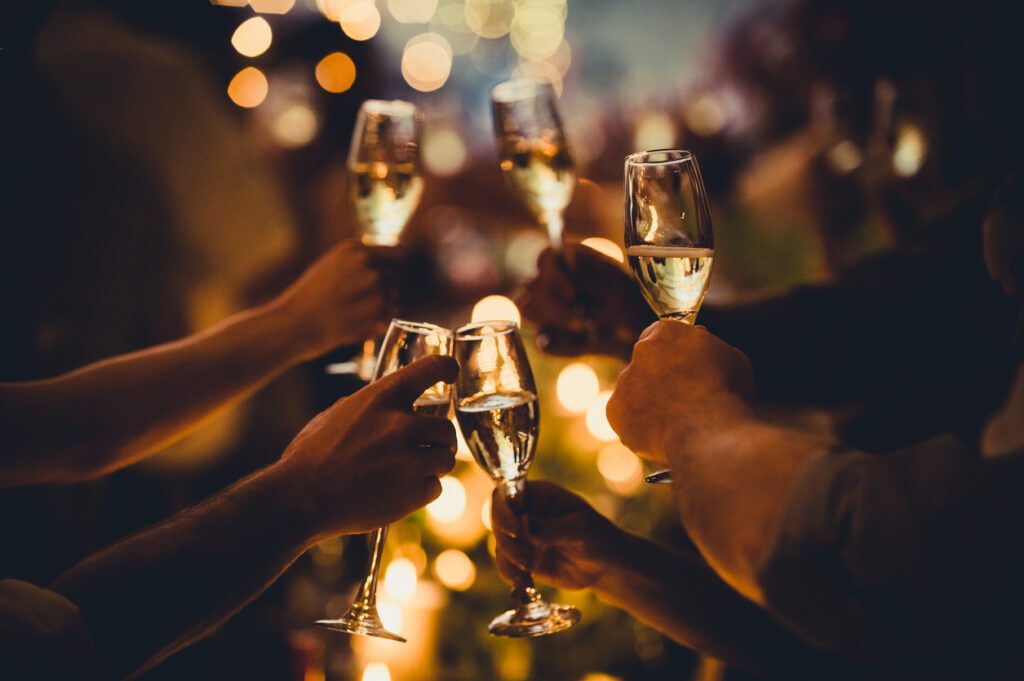 Exchanging New Year's Resolutions
If you're looking for a unique way to propose, here's one that will definitely surprise your partner. Create a romantic setting and have an intimate conversation about goals and resolutions for the New Year.
When the time is right, express your goal of wanting to marry them- this should get their attention! Once they realize what you've said, take out the ring and make it official with a proposal.
Use A Photo Album
Create a beautiful, lasting memory that you and your significant other can cherish forever! Create an album- either print or digital – to capture the fantastic memories of this past year. Fill it with photographs, texts/emails exchanged between you two, tickets from events attended together – anything sentimental that will bring out feelings of love when relieved.
Get creative by adding witty captions on each page to make them laugh; then finish the album with a romantic proposal: "Will You Marry Me?". Whether traditional or modern in style, such an album will surely spark joy for years to come.
Scenic Rooftop Proposal
If your partner is captivated by breathtaking scenery, an ideal proposal spot would be somewhere with a stunning view of the city or nature. Consider reserving a rooftop restaurant or bar for dinner and drinks followed by popping the question when everything seems just right!
An even more romantic alternative may be finding someone who owns access to their own private terrace boasting an impressive view. If the mesmerizing vista doesn't already take their breath away, your heartfelt proposal certainly will!
Party with Friends & Family
Ring in the New Year with your closest family and friends! Not only will it be a great excuse to celebrate, but they'll unknowingly bear witness as you ask your partner the life-changing question.
Plus, you won't need to make any calls afterward – all of them already know about it! Celebrate 2021 with those that mean most to you this holiday season in an unforgettable way.
At The Stike of Midnight
As we count the final seconds of 2022, embrace the romance and tell your partner why you love them. When midnight strikes, fall to one knee and present a proposal that neither of you will ever forget – it's an unforgettable way to finish this year and start out fresh in the next! This special moment marks not only a new adventure for both of you but also sets up every future anniversary as a "proposal-versary" that celebrates precisely where it all began.
Rocking Around The Christmas Tree
This Christmas, you can still give your partner the exceptional proposal experience they've been yearning for! Take advantage of the twinkling lights and festive atmosphere that come with having a Christmas tree up in your home.
Re-decorate by changing some of the ornaments to share messages about what you love most about them – we guarantee it will be a surprise! Or perhaps there's already a "forgotten" present under the tree? No matter what you decide on, this moment is sure to be magical.
Customized Champagne Bottle
Why not surprise your potential partner with a champagne bottle featuring an exclusive label? It can be fun or intimate, like "Let's build our future together?" or even just the simple yet romantic line of "I want to spend my life with you."
If custom-labeled champagne isn't in the cards, attach a personal message directly on the bottle – visible for all to see – and watch their face light up as they read it! The possibilities are endless; either way, presenting them with this unique gift will surely make that special moment unforgettable.
New Year's Eve Gift
If you already have the ring, why not make your New Year's celebration a memorable and romantic experience for just the two of you? Surprise your partner with an unforgettable proposal by presenting the ring over a special meal. To add that extra sparkle to this unique occasion, create their favorite dishes at home and offer them along with both dessert and marriage!
New Year's Musings
New Year's Eve is a momentous occasion where you can reflect on the past and look forward to what's ahead. Harness this special atmosphere to plan an unexpected marriage proposal! Try asking your beloved about their most cherished New Years memories thus far, then take advantage of the opportunity — pop the question and make sure that this particular New Year's Eve will last in both of your hearts forever!
Proposing at a meaningful and sentimental moment can be incredibly effective. Consider sharing your vision of what you two will be doing in the future, either during an intimate dinner for two or even while celebrating with friends. Even constructing a plan for one year can serve as an excellent backdrop when proposing to your significant other.
Let It Snow
Don't let the winter chill impede your proposal plans! Take advantage of the snow-covered landscape and make a grand gesture. Using a shovel to carve out your question or adorn it with luxurious Christmas lights, poinsettias or red roses will surely make an impression on your partner that they won't forget. Make sure you write it big enough so they can't miss seeing it!
For those looking for a little extra creativity, why not build your own snowman? Gather some robust branches or other durable items to serve as the arms, then attach the ring. This can either be done by suspending a tray between each arm and placing the ring on top with flowers and decorations around it; alternatively, you could tie a ribbon securely onto one of its limbs and drape the jewelry through that instead. In its free arm place lush blooms, an adorable sign, or even write out your best proposal!
Send in the Carolers
Make your holiday romance even more unforgettable with a surprise caroling performance outside of your home! If you know any local singing groups, reach out and plan for them to come visit while you and your significant other are spending quality time together.
The singers can hold signs that say "Happy holidays" until the very end when they flip it over to reveal "Will you marry me?" written across all of their placards – what an extraordinary moment this will be! Enjoy some warm spiced cider, cheese and chocolate by the fire as the group serenades.
As you can see, there are so many different ways to make your proposal unique that are sure to get your partner's heart racing and ensure that they will never forget it. So go ahead and let your creativity soar! The possibilities of expressing your love and commitment through a marriage proposal during this holiday season are endless. Good luck
This holiday season, make your New Year's Eve memorable and romantic with an unforgettable marriage proposal! The possibilities are endless – from a special dinner for two to caroling groups holding signs that say "Happy Holidays" until the very end when they flip it over to reveal "Will you marry me?". Create something truly special for your partner by putting a unique spin on this classic tradition. Whether it's building a snowman and tying the ring onto one of its limbs or carving out your question in the snow outside, these creative ideas will surely get their heart racing! Make this momentous occasion last forever with an amazing New Years Eve Proposal!