Long-lasting, timeless, and beautiful. These words don't just describe an ideal married life — they also express what moissanite rings are. If you're planning to pop that question and settle down with your significant other, here's a list of the best moissanite engagement rings for you to check out.
What Is Moissanite?
Rare and only available in small quantities, moissanite is a naturally occurring mineral made of silicon carbide. To produce moissanite rings, scientists have recreated moissanite in laboratories.
At a glance, moissanite rings look like diamonds. But if you look closely, these diamond simulants are more brilliant. However, unlike diamonds which are available in various colors, they are also colorless, save for some traces of yellow, gray, or green.
The biggest difference between moissanite vs. diamond is price. You can buy the former at a tiny fraction of the latter's cost. And to top it all off, moissanite rings are ethically sourced and conflict-free. Because they last long (they have strong resistance to oil and dirt and are hard-wearing) and don't lose their sparkle, they make for a great alternative gemstone for engagement rings.
Moissanite Engagement Rings Pros and Cons
When you opt for moissanite engagement rings, these are the advantages you can enjoy:
One of the more affordable engagement rings
Their hardness and durability are comparable to diamond
They are the most brilliant gemstones
They are suitable for the eco-conscious
They are easy to maintain
These pros far outweigh the cons of a moissanite. But to give you an idea, here are the downsides of these rings:
They're not a traditional gemstone choice
Some can appear yellowish, greenish, or grayish
They don't have that diamond's distinctive white sparkle
They have a lower value as an heirloom
Not all jewelers work on moissanite rings
What To Look For When Shopping For A Moissanite Engagement Ring
Apart from the question of where to buy moissanite engagement rings, you must be wondering: What should I look for when shopping for this ring?
Like any other gemstone, you must consider these 4Cs.
Carat. Carat refers to the weight of the moissanite. Take note that a moissanite is lighter than a diamond. So a setting that usually holds a one-carat diamond can cater to a moissanite with a lower carat.
Cut. Cut refers to the quality of a moissanite's angles, finishing touches, and proportions. If the cut is intricately made, it will be pricier. Common cuts include round brilliant, square, oval, and emerald-cut.
Clarity. Some moissanite have fewer inclusions (read: flaws and blemishes than others). Typically, rings carrying these stones have a clarity grade of VS (very slightly included).
Color. Moissanite, as mentioned, is colorless. You will commonly find them within the D to I color scale. On paper, D to F rings are considered "perfectly colorless" while G to I rings are "nearly colorless."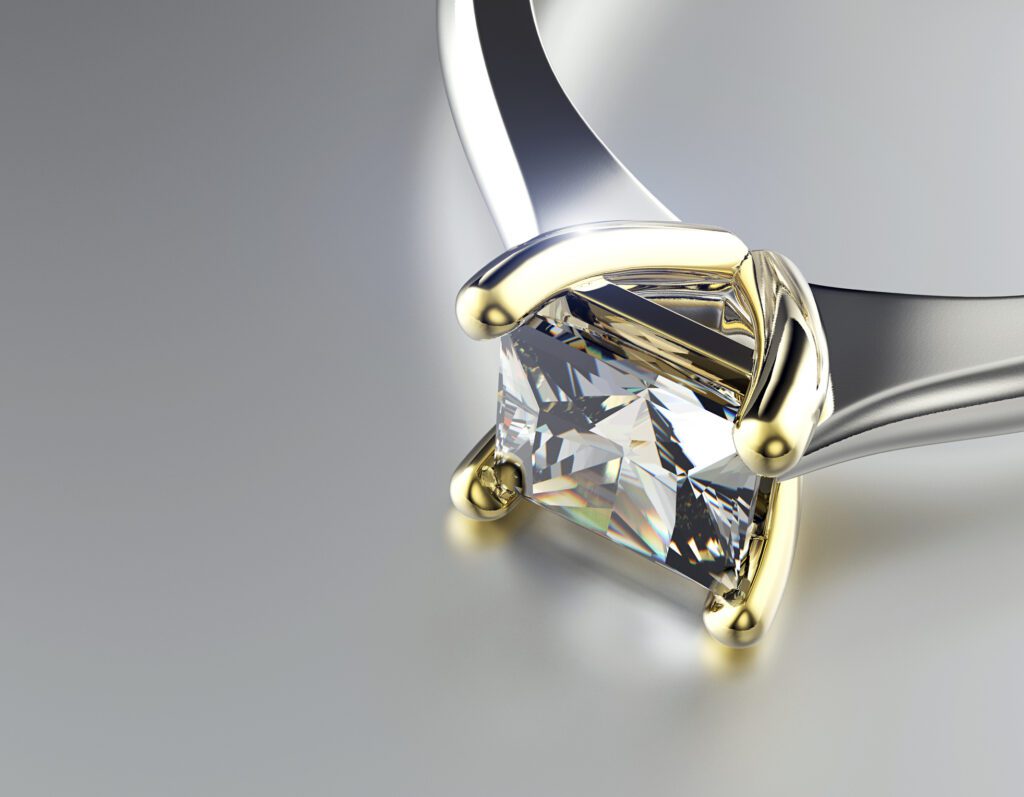 Examples and Buying Guide: Where To Buy The Best Moissanite Engagement Rings
If you're asking where is the best place to buy moissanite engagement rings, we got your back. Listed below are our top 12 ring recommendations from several jewelry shops you can easily access with just a few clicks or taps.
Forever Moissanite Hand Engraved Princess Cut Moissanite Solitaire Engagement Ring
Engagement rings symbolize one's love for their significant other. And this hand-cut, hand-engraved ring is one piece of jewelry that beautifully captures love as one of the most delicate and intricate feelings.
Crafted by Forever Moissanite's master jewelers, the ring can sport a color D Moissanite center stone ranging from 1 to 3 carats. Read More.
Charles and Colvard's Cushion Forever One Moissanite Side Stone Engagement Ring
Choosing Forever One as your engagement ring is very fitting to commence a lifetime of love and marital union.
Brilliant and full of fire, this Charles and Colvard cushion cut ring is a good choice if you don't want the usual round or rectangle gemstones. Additionally, there's an array of smaller stones on the side that accentuates the 14k rose gold metal. This brings the total stone count to 17. Read More.
Macy's Lab-Created Moissanite Marquise Statement Ring
The unique curves of this ring exude an elegant, ultra-feminine vibe. Set on 10k white gold, the ring features seven marquise cut moissanite stones with a length that equally measures about 6 millimeters. With seven times the dazzle, this Macy ring is truly worth the buzz. Read More.
DovEggs Queen Art Deco Moissanite Engagement Ring
Proposing to the queen of your life? This moissanite ring from DovEggs has a sparkling round cut center stone inspired by the Art Deco movement that exploded from the mid-1910s to the 1930s. Also, the ring has five metal karat options: sterling silver, solid 10k, solid 14k, solid 18k, and solid platinum. Read More.
Kobelli Asscher Petite Ring
Bearing a distinct step cut moissanite in the center — surrounded by tiny diamonds on the side — this Kobelli ring has large facets that give off an eye-catching sparkle. Although it's part of the brand's Petite Collection, it's a piece of vintage-tinged jewelry that will help you convey a million beautiful words to your fiancé-to-be. Read More.
Capucinne Bella Moissanite and Filigree Ring Set
Capucinne is known for their vintage rings. Nonetheless, the round cut moissanite isn't the only thing to love about this offering from the jewelry maker. It has an exquisite milgrain and filigree, made even more stunning by the ring's white diamond accents.
If we were to choose only one word to describe this set, it's undoubtedly bella. Read More.
1st Dibs Grey Moissanite Hexagon Engagement Ring
Want to pop that "Will you marry me" question in style? Consider this hexagon cut moissanite ring from 1stDibs. Set with simple claw prongs, the ring highlights the beautiful sparkle unique to the moissanite gemstone. Furthermore, its 14k yellow gold metal complements the center stone's elegance. Read More.
Diamond Nexus Cinderella Staircase Princess Cut Moissanite Ring
Truly fit for a princess, this Diamond Nexus ring has a peg head setting style that aptly exalts its D- to F-colored moissanite.
Flanking the center stone are eight accent stones gracefully attached to the "steps" of the upper half of the staircase-shaped band. Metal options include 14k white gold, 14k yellow gold, 14k rose gold, and platinum. Read More.
Best Brilliance Samantha Moissanite Ring
In this Best Brilliance jewelry, you will find a top-class moissanite mounted in a classic six-prong setting. A simple solitaire ring puts the stone's sparkle to the front and center. The stone's round cut — one of the most classic options out there — guarantees a hard-to-miss brilliance. Read More.
As with other products from the brand, the ring comes with a luxurious white-and-gold box.
Gigi Ring Design Oval Moissanite Engagement Ring
This ring has an Art Deco-style, oval-shaped moissanite set on a slender metal that can be made of 14 or 18k yellow gold, white gold, or rose gold. It's a made-to-order, hand-crafted jewelry piece that's beautiful to look at and comfortable to wear.
Moreover, if you're into sustainability, it's nice to know that this product is a recycled one. Note that you also have the option to buy this as an engagement ring only or as a ring set. Read More.
Belloring Pear Cut Moissanite Vintage Ring
Proposing to your better half? This vintage Belloring Jewelry ring is a poetic symbol of the lifelong marriage you want to share with them. At the center is a 6mm x 8mm pear cut moissanite, gorgeously accentuated by smaller .09 carat moissanite stones on the side and the "half eternity" curved band found on the bottom part of the pear. Read More.
Molly Jewelry US Oval Moissanite Engagement Ring
The Moissanite of this engagement ring from Molly Jewelry falls within the G to H range of the gemstone color scale (It means that the center stone is considered near colorless). Set on 14k or 18k yellow gold, white gold, rose gold, or silver band, the ring has side stones that can either be moissanite or diamond. Read More.
How To Care For Your Moissanite Engagement Ring?
Even if you have unique moissanite engagement rings, their timeless beauty will depend on how well you take care of them. Here are some quick maintenance tips:
Be careful of accidental knocks and bumps
Take the ring off if it will be exposed to damage-inducing elements (e.g, when you're at the beach and you're applying sunscreen) or before you will perform certain activities (e.g., playing sports, cooking).
Use a mix of warm water and mild dishwashing liquid to clean the ring
Periodically take the ring to a jeweler for professional maintenance and cleaning
When not worn, store it in a safe place and separate it from other jewelry pieces.
Conclusion
Moissanite shares many similarities with diamonds. It's known for its timelessness, strong resistance to wear and tear, oil, and dirt — and, most of all, cost-effectiveness.
Because several reputable shops offer them, finding the perfect one for your significant other won't be as daunting. With this curation, we hope that finding the best moissanite engagement rings just got easier. If you prefer diamond engagement rings, reputable brands such as James Allen, Brilliant Earth, and WhiteFlash can help you.