When talking about proposals and weddings, let's admit it: Most of the attention goes to the bride's engagement and wedding rings. But in recent years, more couples have become keener on choosing the piece of jewelry that the groom will wear. Gold wedding rings are timeless and elegant, making them the safest choice for men. However, with many men's gold wedding ring designs available, it can be daunting to pick one. Scroll through our quick guide if you're shopping for men's wedding rings.
Quick Tips When Choosing Men's Gold Wedding Ring
We'll make ring shopping easier for you with these seven must-know tips.
1. Have a budget (before thinking of men's gold wedding ring designs)
Marriage is a huge investment — emotionally and financially speaking. But here's the good news: the average men's wedding ring is way cheaper than the average bridal set (engagement plus wedding ring).
If you're looking for something economical yet elegant, there are plenty of options out there. Consider these rings from Zales and Costco:
But if you have a bigger budget allocation, we won't stop you from spending thousands of dollars on the most important piece of jewelry any guy could own. It all comes down to your preference and financial capacity as a couple.
2. Know the different kinds of gold rings
Gold rings for guys come in various metal colors, finishes, and fits.
Metal
Yellow gold wedding rings for men are the classic option. It's not only durable and hypoallergenic, but it also has that warm and romantic appeal. White gold has a modern twist, though it may lose its luster over the years without proper maintenance.
Though it's more associated with women, rose gold has become increasingly popular among grooms. Apart from its soft brilliance, couples choose this type so that the groom's ring can match that of the bride's rose gold ring. Got no idea what a groom's rose gold wedding ring looks like, check out this one from James Allen: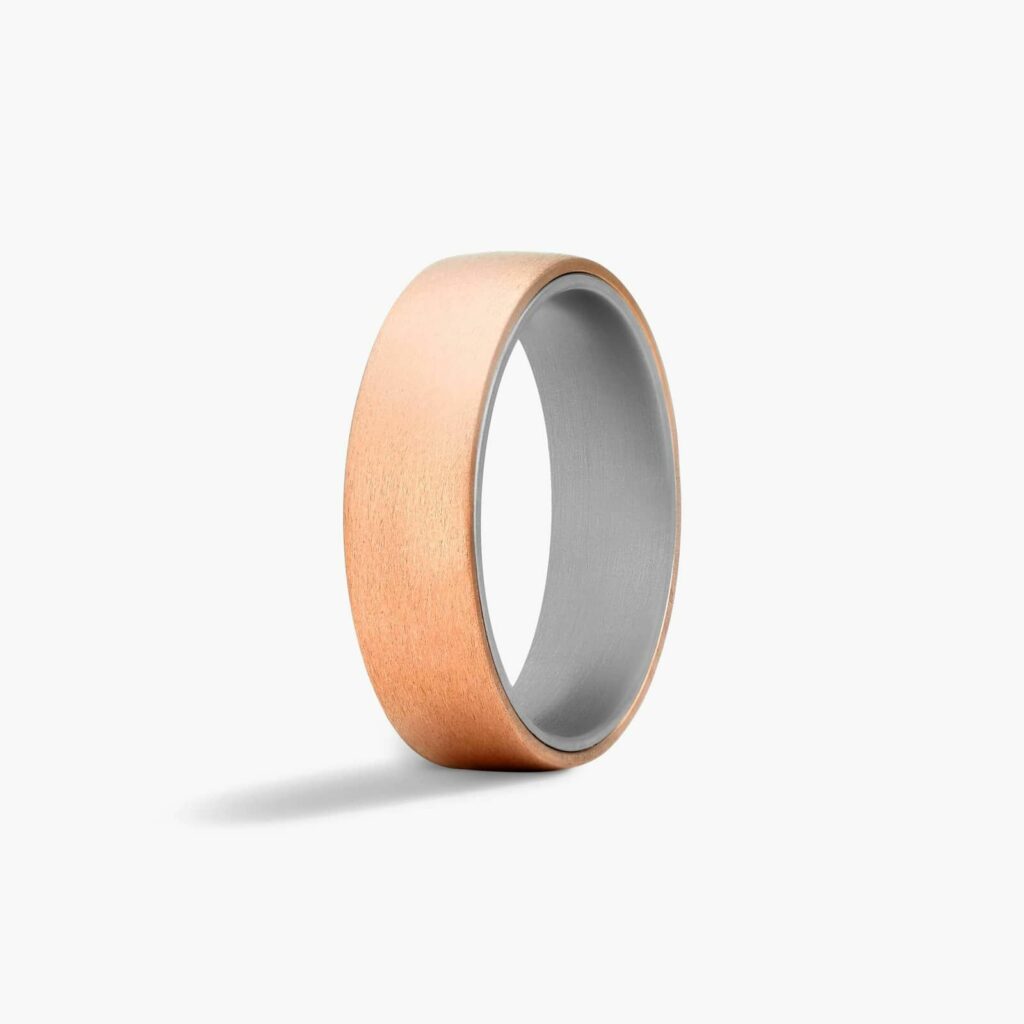 You can also opt for two-tone rings (usually a combination of white, rose, or yellow gold and black).
Finish
The most popular and classic finish is polished, which provides that extra gleam and shine. Meanwhile, the abovementioned satin finish gives the ring's surface a brushed look and an understated elegance. Matte is another option if you don't want something showy.
To add some character and depth to this piece of jewelry, go for textured finishes (e.g., sandpaper and scratch finishes).
Fit
Comfort should never be taken out of the picture when choosing any ring. Standard-fit rings are flat on the inside, while their comfort-fit counterpart has a rounded inner edge.
Other rings have a square, beveled, or knife edge to add some sense of style to the ring. This ring from WhiteFlash is an example of a ring with beveled edges:
Types of band
Classic wedding rings have no stones or carvings. Some rings carry diamond stones to elevate their look. The ring could have just one diamond or a row of them. Instead of stones, some have carvings on the band or edges to give a ring some uniqueness. Other rings have both stones and carvings.
Domed vs. Flat
For the profile or shape of the outside of the ring, the most common options are domed and flat. Flat rings have a more contemporary and sleek appeal. Domed rings are bulkier with their D-shaped appearance.
Jewelry brands also create something in the middle (rings with a subtle curve) to cater to grooms who don't want an extreme profile for their ring.
3. Measure your ring size
Finding the right ring size is essential for the wearer's comfort. You can do it using a tape measure, a string, or a printable ring sizer. Men's rings are usually bigger and wider than women's; hence they opt for a higher ring size number.
In the US, ring sizes range from 3 to 15, and each one corresponds to a ring's inner circumference in millimeters. The wedding rings of grooms typically fall in the 8 to 14 range. The width, on the other hand, ranges from 8 to 10 millimeters. However, some prefer narrower rings (4 mm) as they are more affordable (thinner rings use fewer metals) and suit smaller fingers.
If you're a guy with small fingers, this 4-mm 18K gold men's wedding ring from Clean Origin is for you.
If your fingers are on the bigger side, try this Blue Nile mid-weight 8mm comfort fit wedding ring. The good thing about both shops is that they offer resizing, making it easier for you to change your ring's size should your initial order be tight or loose.
4. It isn't just a piece of jewelry, so let your personality shine
Do you want something classic or contemporary? If it's the latter, opt for white gold wedding rings for men that can be textured or have angled edges. If you're more of a romantic type of person, something with a hint of rose gold (or a full-on one) should suit your taste.
5. Understand that your lifestyle matters
Not all guys are used to wearing rings. For them, a narrower band (such as this one from Helzberg) is the better option. Hard-wearing yellow gold rings like this band from Reeds are a no-brainer choice for those leading an active lifestyle.
6. Browse men's gold wedding ring designs from various shops
Whether you're looking for plain rose gold wedding rings for men or men's gold wedding ring with diamond (like this one from Kay or this one from Jared), only browse through rings from reputable shops and jewelry brands. This way, you can guarantee that the ring will have premium quality and will last a lifetime.
7. When in doubt, shop together
Traditionally, the bride-to-be buys the ring for the guy. This is because the guy is expected to purchase the bridal set. However, this is not a set rule. The guy can always be free to choose which ring he wants (and vice versa).
If you're a bride-to-be shopping for a ring for your man and you don't know what will he like, shop together. This will also help you choose wedding rings that will complement each other.
Conclusion
Over the past years, the men's wedding band has transformed from being a mere physical representation of one's marital status to something that also mirrors the wearer's character and style.
One proof is the plethora of men's gold wedding ring designs available today.
If you're looking for that wedding ring for the groom, we hope our round-up of essential tips will help you make an informed decision. Explore our website for ring-buying guides and more.