While it's true that love is priceless, it can't be helped if couples would want to splurge on their wedding bands. These jewelry pieces are arguably the most recognized symbol of love and marriage. If you're wondering how much should wedding bands cost, this article is for you.
What's The Average Cost Of Wedding Bands?
American couples spend about $2,000 on their wedding bands. The average cost of wedding band for women is nearly $560. Women's bands tend to be pricier at around $1,520.
If the average wedding cost is about $28,000. Then the bands alone will take up 7% of the costs of such an elaborate and resource-extensive occasion.
How Much Should You Spend On A Wedding Ring?
Ultimately, it's your choice if you will go beyond or below the average wedding ring cost. There's no set rule here because wedding band shopping is a personal experience. It depends on many things, such as your aesthetic preference and your overall wedding budget.
To give you a further idea, here are some factors that affect wedding ring prices:
4Cs: The grading of a gemstone is based on color (which covers the hue, saturation, and tone), clarity (how colorless or yellowish a stone is), carat (a unit of gem weight), and cut (the workmanship involved in fashioning the stone).
Design: A ring with more intricate details is usually more expensive.
Metal: Platinum and gold are the most common metal for bands. The former is pricier and more valuable because it's denser and relatively more scarce.
Jeweler: If a band is crafted by a master or popular jeweler, that jeweler's brand will drive the cost upward.
Personalization: If you want a truly unique wedding ring, you must shell out more money. Personalization can cover engraving and the addition of more embellishments.
5 Tips When Buying A Wedding Ring
Take note of these tips when buying women's and men's wedding bands.
Budget wisely
It's not only the wedding rings you have to spend on. There's the usually pricier engagement ring. Then your wedding suppliers. Then your honeymoon. The key is to settle down with a budget and stick to it.
Shop early
Experts advise shopping for wedding bands at least two months before your special day. As wedding preparation can be too hectic, make time for ring shopping early on — especially if you're thinking of getting customized jewelry pieces.
Know your preferences but keep your lifestyle in mind
Do you want platinum or gold? If gold, do you prefer the classic yellow gold, the modern-looking white gold, or the ultra-romantic rose gold? You must take into account the setting and the gemstone itself. Though it can be tempting the shiniest of them all, never compromise comfort and fit, and make sure that the ring can keep up with your personal lifestyle.
Think as a couple
Because wedding rings are symbols of your marital commitment, you might want to get a matching set. And if you want to go extra, get rings that also complement your engagement ring.
Guarantee quality by buying from reputable brands and shops
Wedding rings are both an emotional and financial investment. On the financial aspect, you can make the most of your money by purchasing from recognized stores. Apart from ensuring the quality of the rings, you can also benefit from complimentary offerings like free resizing and re-plating.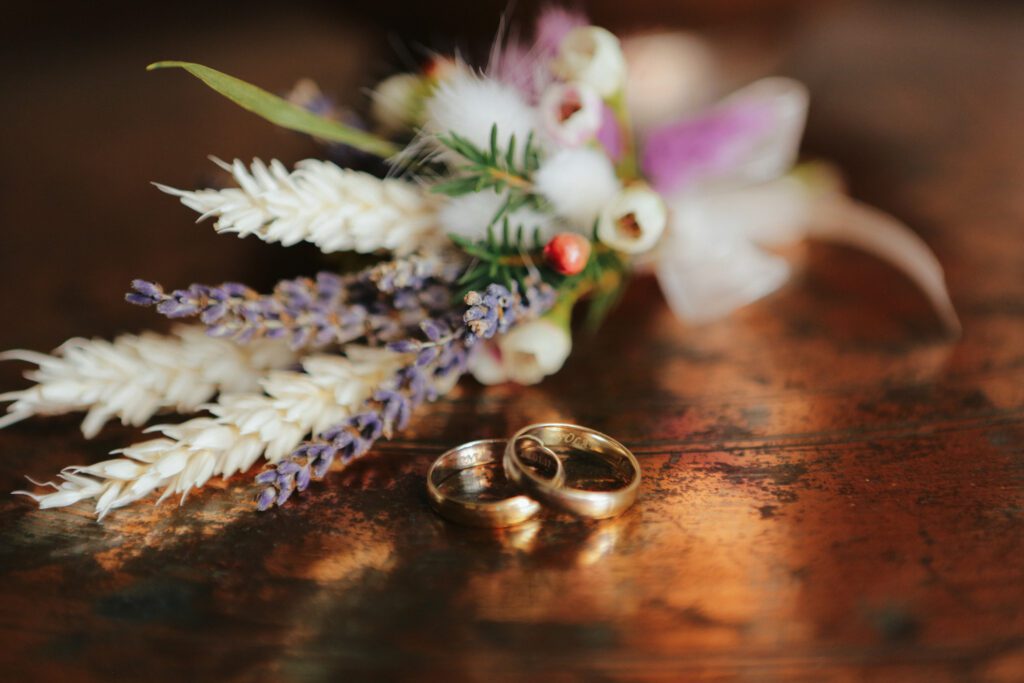 Best Places To Buy Wedding Rings
Wondering where to shop for wedding bands for women and men? Below are our top 7 recommendations.
James Allen
Commemorate your everlasting love with beautifully handcrafted rings from James Allen. The leading jeweler brand boasts more than 500,000 certified conflict-free diamonds.
Some of their best-seller wedding bands are 14k white gold slightly curved and dome rings. Women's rings range from $200 to over $6,000, while men's rings have a $100 to $4,000 price range.
Clean Origin
Want lab-grown diamonds for your wedding ring? Co-founded by a third-generation diamond jeweler, Clean Origin is a brand that exclusively uses ethically sourced stones. Apart from free shipping and resizing, they offer a hassle-free 100-day return policy.
Their men's and women's wedding bands have a price tag that ranges from $200 to $5,000. Domed and flat bands are some of their most popular items.
Blue Nile
This reputable shop offers natural diamonds handcrafted in Seattle by their team of dedicated artisans. Touting themselves as "the original online jeweler," they've been providing sparkling symbols of love since 1999 — with the classic platinum ring as one of their top-sellers.
Brides-to-be can buy anywhere from $200 to over $15,000; $200 to $8,000 for future grooms at Blue Nile.
Brilliant Earth
Proudly offering diamonds and colored gemstones with environmentally responsible origins, Brilliant Earth is recognized for thoughtfully designed jewelry pieces. From their San Francisco design studio comes an extensive selection of wedding bands, and one of their best-sellers is the comfort-fit yellow gold wedding ring.
Women can shop for rings for $300 to $19,000. Men's rings have a narrower price range at nearly $400 to $4,000.
Zales
Zales is the place to be if you're looking for budget wedding bands. You can even create your own design starting at $260. But if you want to simply select from their existing pieces, you still have a broad selection to choose from — they've got bands in traditional metals and rings with a literally unique twist.
Couples can score bands as low as $30. But they also have more expensive items priced at around $8,000.
WhiteFlash
WhiteFlash carries several designer rings — from Simon G to Verragio. But apart from their great catalog of wedding bands, they offer the most comprehensive value proposition. In other words, they could give you the most bang for your back with their Complete Satisfaction Guarantee, Lifetime Trade-up Benefit, and diamond certifications.
Whether you have a budget of around $200 or you can spend up to $3,500 to $6,500, you'll find something in their selection.
With Clarity
Founded by a couple, With Clarity is an online retailer offering premium engagement and affordable wedding rings.
One of the best parts about the shop is they let you customize your rings. You can add many elements— from accent stones to metal milgraining — as long as your budget allows. They also have Home Preview, a free at-home try-on program that lets you try on up to 2 custom replica rings.
Leibish and Co
Though they offer traditional colorless diamonds, Leibish and Co specializes in natural fancy colored diamonds and other colored gemstones. They partner with jewelry-niche sites and even offer a $500-off promotion. That means you can get their rings — which range from about $700 to $20,000 — at a discount.
Conclusion
No matter the price tag that comes with them, wedding bands are worth every penny. After all, they symbolize your and your partner's commitment to be there for each other — for better or for worse.
Now that you know how much should wedding bands cost, it's time to explore the catalogs of reputable jewelry brands. If you still need more guidance on what to buy, check out our other features on the website.