Not all love stories have happy endings. While some find their forever, some couples decide to go their separate ways. If you're at a crossroads, whether you're selling your engagement ring and thinking, "how much can I sell my engagement ring for," this quick guide is for you. 
How Much Can I Sell My Engagement Ring For?
The answer to this important question is it really depends on the kind of engagement ring you have. While most Americans spend $4,000 to $6,000 on average for an engagement ring, many factors come into play when determining the resale value of these items.
If you buy a diamond engagement ring for $2,500, will you get $2,500 when you sell it? It will be a bit less. The price of the ring will be within the supplier and retailer range, but it will not be as much as the sticker price you see in jewelry shops or online stores. On average, you can get around 30 to 50 percent of its original retail price. Some high-value items go for as much as 60 to 75 percent of their original price.
Take note that when the retailer bought it from the supplier, he got it with enough margin to do good business. When these retailers or jewelers buy secondhand engagement rings, they consider their expenses and factor that in when they try to put your ring on the market. Some may even ask for a return agreement if the item doesn't sell.
Can You Sell Your Engagement Ring?
Before even finding answers to the question "how much can I sell my engagement ring for?", the first question to answer is if you can sell your wedding ring.
A broken engagement or a failed marriage is an unfortunate event and painful experience. When moving on and deciding to sell an engagement ring, it can be confusing what's the best thing to do with the gift from the would-have-been spouse.
The legal answer to this question varies from state to state. An engagement ring, in most cases, is seen as a gift and belongs to the recipient. However, real-world court cases have been ruled either way about diamond rings. Some courts rule them as a conditional gift (where after the proposal, there has to be marriage) and favor the giver.
If an amicable agreement is impossible, it is always best to consult an expert first.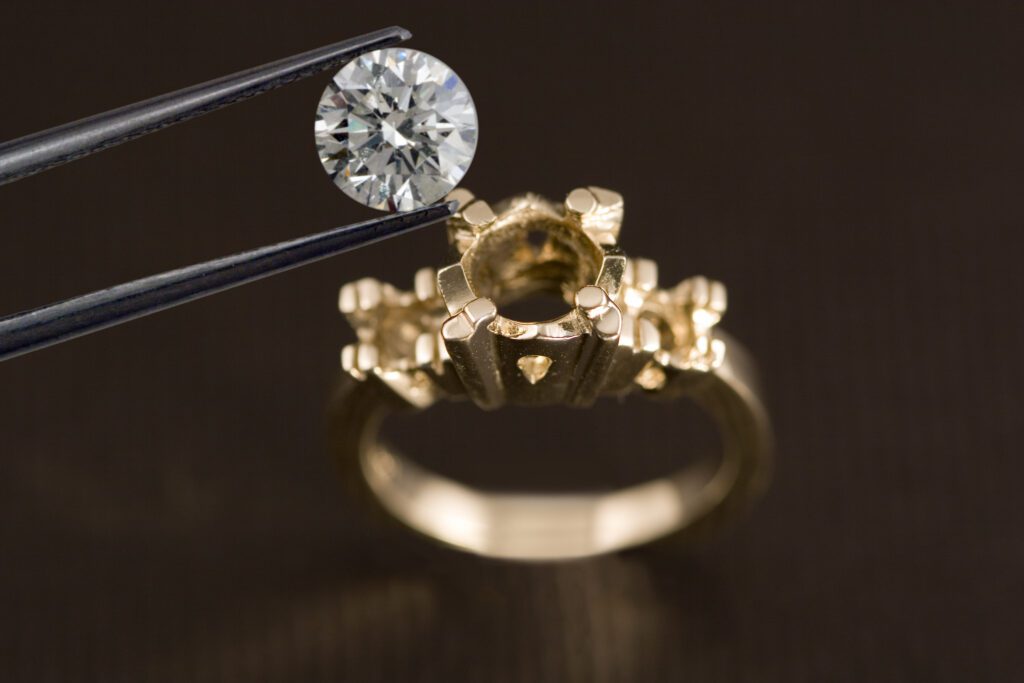 How Do I Get The Best Price When I Sell An Engagement Ring?
If you want to get the best dollar amount for your engagement ring, here are some practical tips:
1. Be Ready
Your engagement ring is not just another piece of jewelry. It's a symbol of commitment and a promise of love. Before selling it, think doubly hard. Do not rush things. Are you selling it because you want to move on? Are you selling it to address certain financial issues? Remember, only put it up for sale if you are ready to let it go. This way there will be no regrets in the end.
2. Know Your Ring
Knowing your ring and its worth will help you determine if you're being offered a fair price. There are several factors to look into:
Center Stone: One of the biggest determining factors will be the primary stone you have on your ring. If it's a diamond, then its size, cut, and quality will help put a resale tag price. Make sure you have a good understanding of the 4Cs.
Diamond Certificate: If your ring comes with a Gemological Institute of America (GIA) certificate, a buyer will be assured of the quality of the gemstones.
Metal: It is best to know if your ring is made of platinum, white gold, or other metals. However, take note that the prices of these materials fluctuate and are only secondary to the gemstone.
Where The Ring Was Bought: An engagement ring made by a popular designer will definitely command a higher price. It will also help if you bought it from reputable jewelry shops such as James Allen, Brilliant Earth, Blue Nile, or Clean Origin.
Age: Vintage and antique engagement rings are considerably more valuable. It will be best to have proper documentation or at least some sort of provenance for the buyer.
Purchase Price: When you sell your engagement ring, you must be realistic with your expectations. Again, consider the markup or margin the buyer needs to do good business.
3. Do Your Homework
Before putting your engagement ring on the market, it will help if you take the time to look at similar rings online. This will give you an idea of how much the ring was and what the secondhand market might be willing to pay for it. If you do not have a GIA certificate, you can also ask a jeweler or gemologist for an appraisal just to be sure that you will not be lowballed.
4. Compare Offers
If you want to get the best offer for your diamond engagement ring, make sure you understand your different options. Pick the one that has the least middlemen for a better chance of getting a good price.
At the end of the day, selling an engagement ring is a personal choice, so pick the buyer that you think will pay for the ring for its true value.
Where Can I Sell An Engagement Ring For The Most Money?
There are various avenues when selling an engagement ring. Here are some of the most common ways people sell their engagement rings:
Local Jewelry Shops or Pawn Shops
If you're more comfortable doing it in person and be done in no time, you can head to a local pawn shop or your local jeweler. They can assess the value of your ring and pay you in cash. The only advantage of this method is you can get money quickly. However, they will buy your ring at the lowest possible price they can negotiate for.
Another Person
One of the best deals you might get for your ring is selling it to another individual. As another consumer, they don't have access to supplier-to-retailer prices and will settle for your pricing, especially if they know you as trustworthy.
Sell Your Engagement Ring Online
Selling your engagement ring online is another popular move for consumers. Places like Worthy.com offer a hassle-free process of selling diamond jewelry. They do all the leg work for you – from cleaning the engagement ring, holding an auction, and getting the money from the buyer to you.
What Can You Do With The Money?
Once you've sold your engagement ring, here are some ways to put the money to good use:
Emergency Fund
Pay Bills
Part of a Downpayment
Investment
Upgrade Your Skills