Halo engagement rings have that extra sparkle and shine. And it's no secret how this style enamors brides-to-be around the world. But what is a hidden halo engagement ring? And why is the emerging jewelry trend so popular? Read on to find out.
What Is A Hidden Halo Engagement Ring?
A halo engagement ring features an array of small gemstones encircling the center stone. On the other hand, a hidden halo engagement ring puts that "halo" underneath the center stone. Think of it like a collar worn on the "neck" of the ring.
When you look at a ring from the top, that extra set of gemstones is hidden. But if you view it from the side, that's when you'll see the smaller stones.
These rings have captivated the eyes and hearts of brides-to-be in recent years. And it's not hard to see why. First off — who doesn't love the extra dazzle? The hidden halo adds an interesting element to the ring and makes the main stone look bigger. Overall, they make the ring appear more glamorous, and luxurious.
They are also extremely versatile. No matter the cut of the center stone, jewelers can incorporate a hidden halo underneath them.
Practicality-wise, hidden halo rings appear less bulky on the finger than their halo counterparts. They are also less likely to snag on materials because their halos are hidden.
You can get all these without having to spend extra hefty money. Their price is comparable to other settings, but they give that extra shine.
Hidden Halo vs. No Halo Engagement Ring
When comparing hidden halo vs no halo, the biggest difference is the presence of the halo. Though the additional set of stones in a hidden halo isn't fully visible from the top, the extra sparkle they give peeks through when viewed from the side.
Even if the halo is barely visible from the aforementioned angle, it can still give the ring's center stone an enlarging illusion.
Pros and Cons Of Hidden Halo Engagement Rings
Hidden halo rings began gaining attention in the early 2000s and have since been a popular choice among brides-to-be who want something extraordinary.
You've seen them on the fingers of top celebrities like Hailey Bieber and Jasmine Tookes. But apart from that celebrity factor, there are many reasons why you should choose hidden halo rings over their no-halo counterpart.
A hidden halo engagement ring setting has these pros:
Luxurious and unconventional look
Cost-effective
More sparkle
Makes the center stone appear bigger
Easy to customize
Just to be transparent, we've also listed down its cons:
It's part of a trend, which may become a fad after some time
Rings have a higher setting or taller basket
The higher center stone may damage the hidden halo ring
May scratch stacked bands (if any)
Harder to clean
Tips When Buying Hidden Halo Engagement Ring
Now that you know what a hidden halo engagement ring is — and you're considering buying one — here are some things you must keep in mind.
Halo type. Most hidden halo engagement rings have pavé or micropavé settings that feature petite stones. However, there are rings whose hidden halo have larger gemstones. The choice depends on your preference and the type of finger you have: Generally, larger stone rings fit bigger fingers.
Halo location. Some rings have fully hidden halos, while others are partially visible. If you want to add immediately visible extra shine or contrasting colors around the center stone, go for the latter.
Gemstone type. Though diamond is the most popular choice for center stones and halos, you still have other gorgeous options. Some jewelers mix diamonds with Moissanite or sapphire.
Comfort. The look is just one part of the equation. Because the engagement ring is something you'll wear most of the time, choose something comfortable to wear. It's especially a concern if you're talking about rings with smaller stones underneath the main stone, which generally have a higher setting.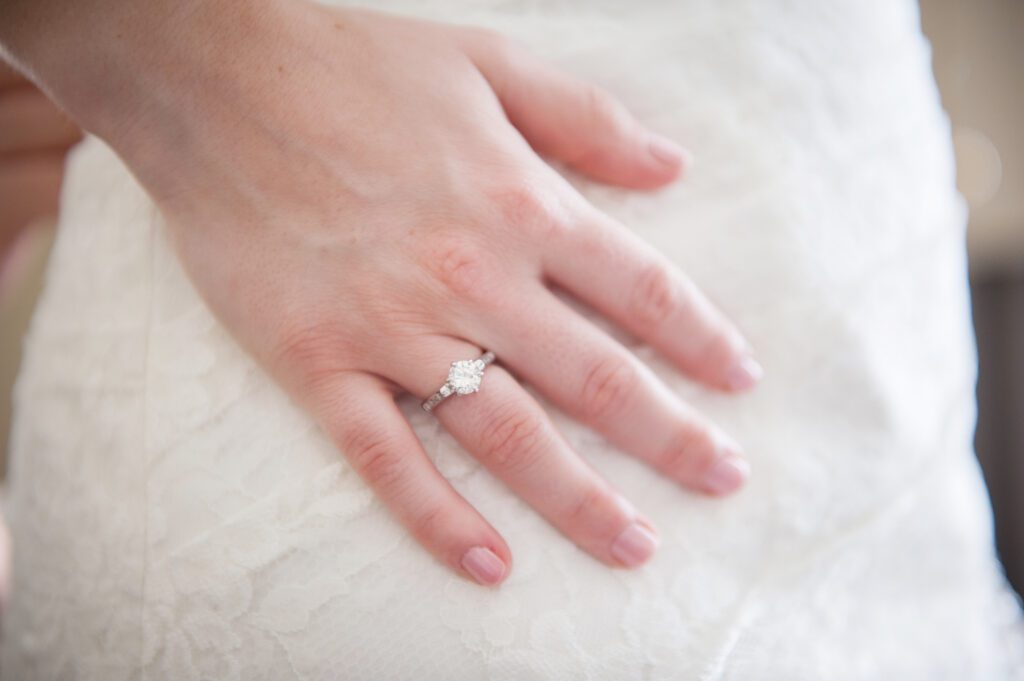 7 Best Examples Of Hidden Halo Engagement Rings
Looking for halo engagement rings? Here are the rings we love the most from top jewelry brands and shops.
Want your bride-to-be to say yes to forever in style? James Allen has this engagement ring that fits that vision. It's simple and elegant — and that sculpted hidden halo is a delightful, sweet surprise.
Another piece of jewelry from James Allen, this one also has a hidden halo but adding more brilliance is the group of diamonds incorporated in the band via a pavé setting.
A four-prong setting serves as the frame for this Clean Origin ring's round diamond center stone. The lab-created sapphires underneath give it a beautiful pop of color.
The stunning diamond of this Blue Nile engagement ring sits on a six-claw setting. Adding sparkle from every angle is its hidden halo of gorgeous pavé diamonds.
Having a hidden halo is indeed the trend. But if you want to add some twist, consider this double hidden halo diamond ring from Brilliant Earth.
This ring from Zales has a princess-shaped cluster of multi-sized diamonds at the center. Underneath the unique centerpiece is yet another interesting element – a hidden halo of diamonds.
Every angle of this Reeds engagement ring glistens, thanks to the halo of round lab grown diamonds that wrap around the bottom part of the pearl-cut center stone.
Conclusion
What is a hidden halo engagement ring? This is a question that people who seek something unique ask. Hidden halo rings are a trendy piece of jewelry that offers extra sparkle, and they do so in an interesting manner: The halo is unconventionally placed underneath the center stone.
If you're contemplating shopping for one, bookmark this guide and check out our engagement ring recommendations.