If you're planning to propose and find yourself gazing at an engagement ring styles chart, we get you. Choosing just one style can be tricky. After all, the engagement ring is not just an ordinary accessory — it's something people how to have and keep for a lifetime.
This quick guide will help you learn more about the 20 most popular ring styles.
8 Helpful Charts To Help You Find The Best Engagement Ring
To help you find the best among the plethora of engagement rings, we've compiled some charts that will serve as your handy references.
The 4Cs of Buying a Diamond
This chart briefly discusses the 4Cs that affect a diamond's quality. These 4Cs are cut, color, clarity, and carat.
Finding Out a Ring Size
Printable and practical, this ring size chart features ring sizes 3 to 13.5. It has images of the corresponding ring per size and a horizontal line below (the indicated measurement is the diameter of the ring in millimeters).
​​https://www.pinterest.ph/pin/310889180532464295/
Diamond Sizes
This chart showcases a photo of an average lady's hand, which allows you to easily see what a certain point or carat of a round or princess cut diamond looks like on the said hand. One carat is equivalent to 100 points.
Engagement Ring Guide: Settings & Styles
This simple guide puts the spotlight on four of the most common settings. These include prong, cathedral, bezel, and tension.
How to Choose Future Wifey's Engagement Ring
This infographic summarizes the four things you need to know when looking for an engagement ring. Apart from the stone's 4Cs and setting, you must also consider the metal material and the price.
Dream Engagement Rings
This creative chart has one big ring, with each point in its clock-style layout featuring a certain ring style. The chart depicts a total of 18 styles.
How to Determine Her Style
This is more than just a guide to engagement ring styles. It recommends specific styles to personalities (e.g., If the bride-to-be is classy, go for a solitaire engagement ring style).
Engagement Ring Pairings to Suit Your Style
This handy chart lets you visualize different engagement and wedding ring pairings. Some of the styles featured here are pavé and bezel.
​
20 Popular Styles Of Engagement Rings For Your Bride-To-Be
Each engagement ring style has its own charm and appeal. These are 20 of the most popular ones among brides-to-be. Check out the amazing jewelry pieces from popular and trusted brands such as James Allen, Blue Nile, Clean Origin, and more.
Solitaire
If you've been searching for engagement rings, solitaire is one of those ring style names you'll be most familiar with. It's a classic single-stone ring whose gemstone is held by a certain number of prongs.
Cluster
Let your bride-to-be's finger sparkle with this setting that, as its name states, boasts a cluster of several gemstones. The stones may or may not have the same cut.
Halo
The halo style lets you add extra glamor to your engagement ring. Apart from the added sparkle, it will give the illusion that your ring's center stone is bigger.
Oval Halo
Want to maximize the extra dazzle that the halo style gives? Choose a ring with an oval-cut center stone.
Double Halo
This is similar to the style above, but instead of one halo, two halos surround the center stone. Choose this ring if your bride-to-be loves statement pieces.
Cathedral
One of the most traditional-looking styles, the cathedral features a center stone framed in a shank and shoulders that curve up. The elegant architectural detail of this style makes it a definite stand out among others.
Bezel
In this ring, the stone sits on the metal itself — a prong or claw does not hold it. It's a low-maintenance option and boasts a more modern and polished look.
Tension
If you want a more contemporary appeal, look for rings with a tension setting. Here, the stone appears floating between the bands — it's the pressure that holds the stone in place.
Pavé
Even a simple ring will look extra brilliant with this setting. A pavé setting embeds petite stones into the ring's band, giving the jewelry that added sparkle.
Channel
Channel-style rings have their bands adorned by tiny stones set on individually crafted grooves — instead of into the metal directly.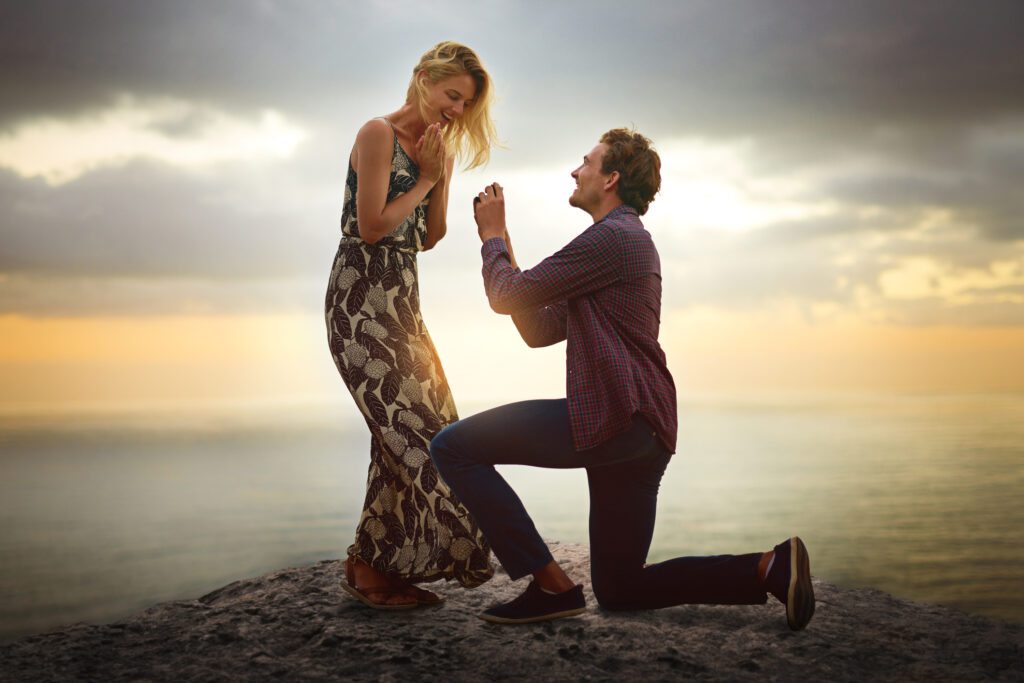 Bar
Like the channel setting, the bar sees the band embellished with stones. But, this time, metal bars are found between the stones.
Bombe
An Art Deco-inspired style, this ring features a prominent pave shape. The name bombe comes from the French "bombée," which translates to "domed."
Split Shank
This is a kind of ring where the band splits into two on either or both sides of the stone.
Shaped Band
Originally meant as wedding bands that can be paired with unique engagement ring shapes, a shaped band can become a standalone engagement ring, too.
Two-Stone Style
Like the name says, it's a ring style that displays not just one but two gemstones. The stones can be similar in size or shape or not.
Three-Stone Style
Having three stones on an engagement ring isn't only visually captivating; it's also meaningful. The stones can mean you, me, and us or past, present, and future.
Swirl
In this ring, the two ends of the bands don't meet the traditional way, creating a swirling or flowing effect around the center stone (which is usually round cut).
Flush
Sleek, elegant, and utterly secure, a flush setting means that the gemstone is set inside the band.
Minimal
Don't want something flashy? Opt for a minimal style, which typically features a thin band and petite stone/s.
Eternity
Symbolic of marital union's vow of forever, this band has an unbroken chain of diamonds or any other gemstone.
Conclusion
Looking at an engagement ring styles chart gives you an idea of the various options you have when shopping for the ring your bride-to-be will put on. We hope this quick guide has helped you pick your style options or, at least, has narrowed them down.