The quest for finding that engagement ring brims with many wonderings. You may have asked yourself: What are some good (and affordable) alternatives to traditional diamonds? In this article, find out more about cubic zirconia vs diamond engagement rings.
Cubic Zirconia vs. Diamond
Is cubic zirconia a diamond? While it looks like a diamond — colorless, brilliant, and dazzling — cubic zirconia is a different gemstone. First discovered in 1937, it's a naturally occurring mineral, but it can also be recreated in a lab. In the 1970s, experts introduced it as a synthetic, colorless stone to the market.
They melted zirconium dioxide with stabilizers (e.g., calcium and magnesium) at 4,982ºF. Once the material hardened and transformed into its cubic crystalline form, they cut and polished it to become the stones we now see on rings (and other jewelry pieces).
On the other hand, diamonds are naturally occurring gemstones composed of compressed carbon atoms.
Cubic Zirconia vs. Diamond Engagement Rings: 4 Main Differences
Here, we're discussing the key differences between cubic zirconia and diamond.
Appearance
Cubic zirconia is similar to a too-perfect diamond in terms of looks: It's perfectly flawless — it has no inclusions, blemishes, or imperfections. However, it tends to have a more glossy appearance.
While both cubic zirconia and diamond are colorless, the latter has more tint as authentic colorless natural diamonds are uber rare. Both can also be available in other colors like pink and yellow.
Durability
Diamonds are the hardest gemstones. On the Mohs Hardness Scale, their grade is 10. Cubic zirconia, meanwhile, is about 8 to 8.5. This means that the latter is more prone to chips and scratches.
Weight
One way to differentiate cubic zirconia from diamonds is by weighing them. Cubic zirconia is heavier than diamond. This is because zirconium dioxide is denser at a molecular level than carbon.
Price
When talking about cubic zirconia vs diamond price, the former is way more affordable than the latter. For instance, you can buy a 1-carat round cubic zirconia ring for $14. If you buy a diamond counterpart, you need to spend $3,600.
Cubic Zirconia Engagement Ring FAQs
Here's a quick roundup of frequently asked questions about cubic zirconia.
1. How To Quickly Tell The Difference Between Cubic Zirconia and Diamond?
A trained eye can distinguish the two by how they reflect light: cubic zirconia gives off a rainbow effect, while a diamond has white or silvery sparkles only.
According to experts, one tell-tale sign that a stone is cubic zirconia is that it looks too good to be true. It has no flaws, and its colorless version is too perfect.
2. Is Cubic Zirconia the same as lab-grown diamonds?
Cubic zirconia rings are not the same as lab-created diamonds. Cubic zirconia is made of melted zirconium dioxide and stabilizers, while diamond is made of pure, unadulterated carbon.
3. How Long Do Cubic Zirconias Last?
Because cubic zirconia is softer than diamonds, it's more prone to wear and tear. This synthetic stone also tends to absorb oil from the wearer's skin and other everyday products. With that said, their beauty will start to fade within two years, unlike diamonds, whose appeal is virtually timeless.
Why It's Not Worth It To Buy Cubic Zirconia Engagement Rings
Apart from the fact that it's not diamond — which is the classic stone you'll see on most engagement rings — cubic zirconia doesn't have an ageless beauty.
But one of the biggest deal-breaker is its lack of durability. After a few years, you will already see prominent scratches and damage. On top of that, the too-perfect-diamond appeal it initially had will also fade. This is why cubic zirconia engagement rings don't have that much value after some time.
If you're looking for other diamond alternatives, you can also consider Moissanites, morganites, aquamarines, and amethysts. Or better yet, why not find budget diamond engagement rings.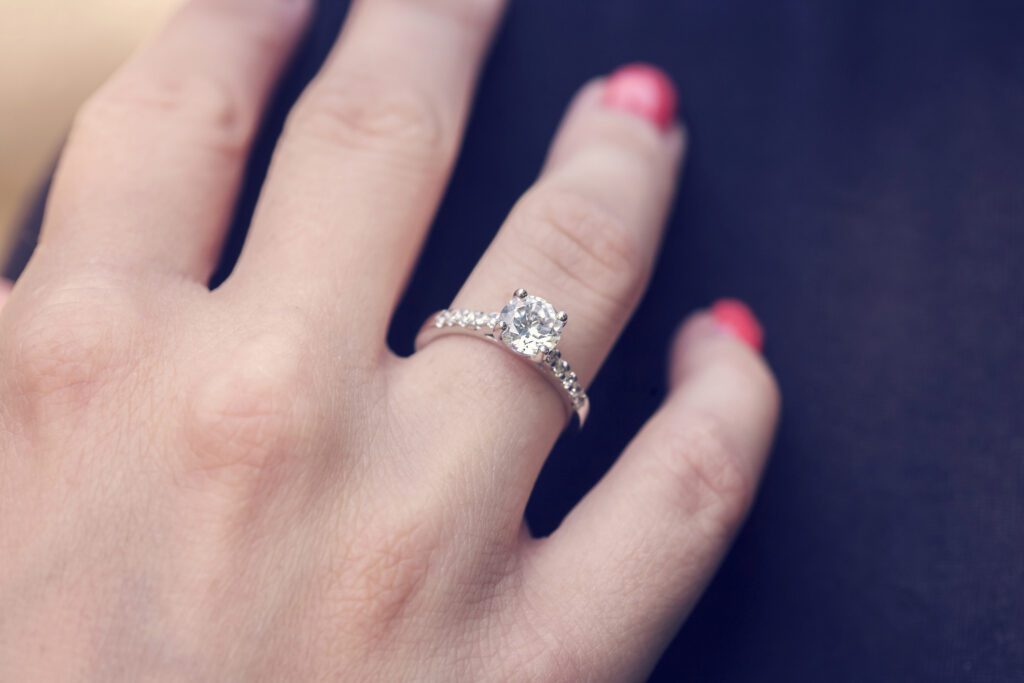 7 Affordable Diamond Engagement Rings From Reputable Jewelers
Now that you've learned all about cubic zirconia vs diamond engagement rings, you may be convinced to go for a real diamond. If budget is your concern, you'll be glad to know that there are indeed diamond engagement rings that have a lower price point.
Compatible with different cuts, this James Allen engagement ring confidently displays a diamond center stone. It has a knife-edge design to complement the dazzling charm of the gemstone.
Clean Origin offers this classic engagement ring. Four prongs hold the center stone, and the small bridge beneath the diamond adds an interesting character to the simple design.
One of the more affordable rings from Blue Nile, it has a simple and elegant 14k white gold band whose top portion is home to a diamond of your choice. The good thing about this ring is that you can let your bride-to-be choose the setting style she wants after your proposal.
This bypass promise ring from Zales makes for a great emblem of eternal love. The three round diamonds have a miracle setting and are lined up diagonally to create an interesting centerpiece.
As they say, there is beauty in simplicity. This ring, which you can find on WhiteFlash, offers that kind of beauty. This four-prong setting round-cut diamond ring exudes a certain kind of grace — what adds to its sparkle is the knife-edge band that creates distinctive, reflexive angles.
Thin, minimalist, yet stunning, this ring from Leibish and Co features seven small round cut diamonds arranged in a neat array. The 18k white gold metal serves as the home to the dazzling row of gemstones.
This ring spotlights a 1/10 carat diamond whose round cut guarantees maximum brilliance. It has a classic four-prong setting; the delicate details and curvings in the immediate surrounding of the prongs elevate the overall appeal of this piece of jewelry from Kay Jewelers.