Clean Origin is a relatively new company that is growing by the day. The company joined the diamond industry in 2017, backed by a crew of experts. The team has over 100+ combined years of experience and vast knowledge of the industry. There are some online retail companies that choose to sell jewelry as a whole, while there are those that choose to focus on certain areas. Clean Origin is one of the companies that focuses on one key area, their specialty is lab created diamonds. We take a closer look at this company and what they offer in this Clean Origin Review.
History of Clean Origin
Clean Origin began in 2017 from a team of industry veterans. These veterans included Alexander Weindling, Ryan Bonifacino and Terry Burman. Weindling was the former managing director at George Jensen and a third generation diamantaire. Bonifacino was previously the chief marketing officer and digital VP of Alex and Ani.
Terry Burman was the chairman of Zale Corporation, CEO of Signet Jewelers and Sterling Jewelers. Together, this team has over 100 years of experience and saw an opportunity in the lab created diamond sector. They also sought to create jewelry items that all had 100% man made diamond stones.
What makes Clean Origin stand out?
One of the things that makes Clean Origin stand out is that they specialize in lab created diamonds. They happen to be one of the few online jewelry retail companies that offers lab created diamonds only. Most of the companies sell lab created diamonds alongside natural diamonds. Their diamonds are on their engagement rings, wedding rings, earrings and solitaire pendants. All their jewelry items feature lab created diamonds. The company has chosen to focus on the lab created diamonds and bring them to perfection.
The shopping experience on Clean Origin is easy to do. The first step for a customer is to pick the loose diamond of their choice. In addition, Clean Origin only has colorless diamonds as their loose stones. You might have to shop elsewhere if you were looking for a loose stone gemstone. They have a 360° view set up that makes it possible for you to view a diamond you are interested in from all angles. For a better view, you can also toggle the diamond, see it in greyscale and even play it back and forth in a loop. This is great because you get to see all the small details and you can spot an inclusion that would not be visible in normal view.
Perfect Fit Collection
Another thing that stands out about Clean Origin and sets them apart from other jewelry retail companies is their perfect fit collection. This collection has a selection of ring styles that use a unique technique. The technique used makes sure the sides of the ring are crafted in a manner that makes the ring fit comfortably against your middle and pinky fingers. This is a design that works great for someone who is relatively active and uses their hands a lot. It also keeps the ring secure and prevents it from spinning.
Clean Origin Refund Policies and Customer Service
Return Policy
The Clean Origin return policy has to be one of the most unique things about this company. Most companies have a 30 day return policy, others 60 days. Clean Origin offers their customers 100 days to return items they are not happy about. This has to be one of the longest return policy any jewelry retail company has. The fact that they can give 100 days for returns means that they are very confident about the products they offer. The condition for a return to be accepted is that it is accompanied by all items delivered with the ring, including the packing slip and grading certificate. You will have to pay a $150 charge if a return on a diamond is made without a certificate.
Free Shipping
The company offers free shipping for every order. Their shipping is done exclusively through FedEx and they are dedicated to give their customers a comfortable experience by offering free return shipping on all their ring orders. The items are also insured and registered for their full value. Clean Origin also offers a lifetime manufacturing warranty to its customers. This means that if an item bought from this company gets damaged because of a manufacturing defect, they will repair, substitute it or replace it without charging you any amount. They also have a free resizing policy that can only be done once.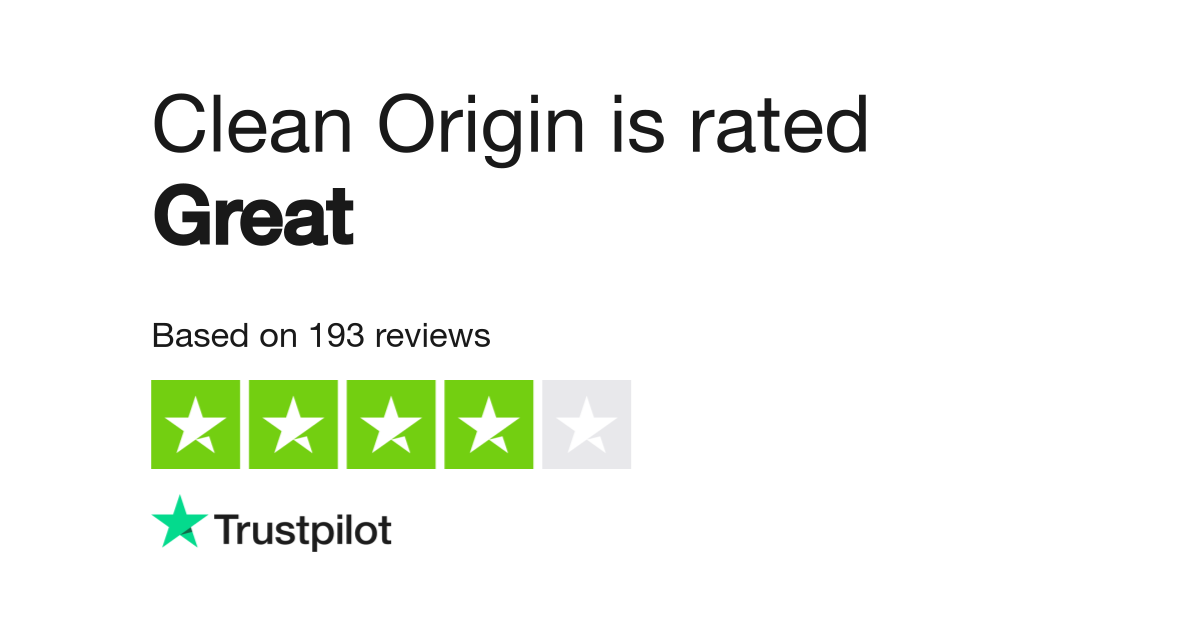 Customer service
Clean Origin has shown dedication in meeting their customer's needs. They also have great customer service. You can reach the customer service at Clean Origin through email, telephone or live chat which can be accessed on their website. They are however not available 24/7. Their chat hours are from 8.00 am to 12.00 am EST from Monday to Friday, 10.00 am to 7.00 pm EST on Saturday and 10.00 am to 12.00 am EST on Sundays.
Clean Origin Vs Brilliant Earth
Clean Origin has a small selection of jewelry options compared to many online jewelry retailers including Brilliant Earth. Brilliant Earth was founded in 2005, while Clean Origin was founded in 2017. This means that Brilliant Earth has been around for a longer period of time than the relatively new Clean Origin Company. A difference between the two is that Brilliant Earth sells both natural mined diamonds and lab created diamonds while Clean Origin offers 100% lab created diamonds only.
One of the most significant differences between these two companies is the pricing. Clean Origin offers items that cost less than Brilliant Earth. According to Clean Origin, the fact they they have a team with years of experience means that they can source better and get better prices. They also state that since they were one of the first online stores to offer lab created diamonds only, they were able to minimize on their overheads and pass on the savings to their customers.
FAQ
Is Clean Origin legit?
Clean Origin is a reputable company that offers high quality jewelry that is authentic. They make it clear that their items are made from lab created diamonds. They are able to provide these diamonds at an affordable price, without compromising on the quality of the stone. All their lab created diamonds are 100% real.
Are lab created diamonds real diamonds?
Lab created diamonds and natural diamonds are not the same. These two are however identical to each other in almost every way, just that lab created diamonds grow in a lab while natural diamonds are mined from the earth. The reason why mined diamonds and lab created diamonds have similar properties is because they are both made up of pure carbon.
Does Clean Origin have sales?
Clean Origin does not have sales. They state on their website that the reason they do not have sales is because they offer their customers competitive prices. They therefore would find it strange to discount their diamonds which are already priced affordably. The company does have some affordable options for someone who wants to purchase jewelry on a budget.
Our favorite engagement rings from Clean Origin
There are over 2,600 different lab created diamonds that you can choose from in the Clean Origin website. Furthermore, these diamonds vary in quality, shape and cut. They have a slider feature that makes it easy to pick and choose the color, clarity and shape of the diamond you want. Their engagement rings also vary in terms of design and setting style. Here are some of our favorite engagement rings from Clean Origin that we think you would love too.

<! jim custom content -->