Shopping for an engagement ring is thrilling, but it can also be overwhelming. An engagement ring is a significant investment that you should thoroughly research before purchasing. Although visiting a brick-and-mortar jewelry store is the "traditional" approach to buying an engagement ring. More people prefer to purchase rings from online jewelers. Buying online is almost always cheaper, provides more excellent options, and comes with the ease of buying from home. But who can you trust with such an important purchase? We rank and review the best places to buy engagement rings online in this article. To ensure you find the perfect ring, at the best price, with the best company.
The Best Places to Buy Engagement Rings Online
Our Rating: ⭐⭐⭐⭐⭐ 5/5
James Allen is the company we recommend most passionately when buying an engagement ring online.

With over 200,000 diamonds that are certified and photographed in high-resolution 360° HD, James Allen has been the fastest-growing privately owned diamond retailer in the world that operates online.
James Allen provides the highest quality cut diamonds and the broadest range of rings at competitive prices. Because they document all of their rings with high-res photos and full money-back guarantees, you will know what you are buying and can shop confidently.
James Allen has several options available for both wedding rings and engagement rings. If you want to customize your fantasy ring, you can design it exactly as you want it. If you're looking for some ideas, James Allen has a lot of high-resolution images of diamond and gemstone engagement rings from previous customers.
The American Gem Society (AGS) and the Gemological Institute of America (GIA) highly grade the vast majority of James Allen's diamonds, ensuring that their items are reliable and accredited.
On JamesAllen.com, you can spin real diamond images in 360° HD using up to 40x magnification to zoom in on details on their website. This provides access to the world's largest diamond collection right at the comfort of your home.
If either you or your partner is unhappy with the ring you get, they offer a return policy and 30-day money-back guarantee. Similarly, each high-quality diamond purchased from James Allen comes with a lifetime warranty.
To summarize the benefits of James Allen:
Huge selection
Very high-quality products and affordable prices
Incredible resolution photos so you can zoom in and out to see rings
30-day return policy and money-back guarantee
Easy site to navigate
---
Our Rating: ⭐⭐⭐⭐ 4.5/5
Clean Origin is our #1 recommendation for lab-grown diamonds.
When it comes to diamonds, many people immediately think of the traditional, mined options. However, more and more companies are now specializing in lab-created diamonds, which offer several benefits over their natural counterparts.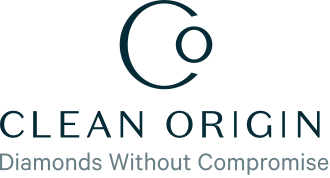 Clean Origin offers a wide range of engagement rings and jewelry items featuring lab-created diamonds. These diamonds are structurally identical to natural diamonds but are significantly more eco-friendly and affordable. In addition, lab-created diamonds are often perceptibly clearer than natural diamonds, making them a great choice for those who want their jewelry to sparkle.
Whether you're looking for an engagement ring, wedding band, or simply a striking piece of everyday jewelry, Clean Origin is worth checking out.
The Clean Origin return policy is one of the unique aspects of the company. They offer their customers 100 days to return any items they are not happy with. This is by far the most extended return policy of any jewelry retail company. The fact that they can give 100 days for returns shows that they are very confident in the quality of their products. The only condition for a return to be accepted is that it is accompanied by all items delivered with the ring, including the packing slip and grading certificate. If a return is made without a certificate, there will be a $150 charge.
Overall, the return policy is very customer friendly and gives peace of mind to those looking to purchase from Clean Origin online.
---
Our Rating: ⭐⭐⭐⭐ 5/5
Blue Nile offers a fantastic selection of competitively priced pieces, and each diamond and jewelry item is carefully inspected prior to shipping by gemologists to ensure the highest quality standards.

Blue Nile was founded in 1999 and invented a new online engagement ring shopping business model. They lower prices for the consumer by listing diamonds on their website directly from the diamond manufacturer and wholesalers. With Blue Nile diamonds, you have an unbeatable selection of competitively priced gems, so finding the ideal diamond is within your reach.
Blue Nile offers exclusive engagement rings constructed with utmost care and meticulously inspected before shipping. Their gemologists guarantee their diamonds and jewelry pieces meet the highest standards of quality, so you can rest assured each piece is made to perfection.
When you shop with Blue Nile, not only will you be delighted by their superior diamond buying tips and impartial guides on diamonds and jewelry so that you can make an informed purchase, but also their experts are accessible 24/7 to respond to any queries—whether small or large. They gladly assist customers in comparing diamonds, selecting the best setting, finding a complementary wedding band, picking special fine jewelry as a milestone gift—and beyond!
---
Our Rating: ⭐⭐⭐⭐ 4/5
Brilliant Earth is an ethical jewelry company boasting diamonds and other precious stones that are responsibly sourced.

Suppose you want to pursue rings, diamonds, and different options for an engagement ring. In that case, Brilliant Earth has the largest selection, most customizable features, and breadth of any online store we have seen. They also have Beyond Conflict products so you can feel comfortable knowing that your engagement ring is ethically and environmentally sourced.
The Brilliant Earth buying experience is designed for the modern male shopper. You can select from a huge range of rings, diamonds, and options and see each option with high-quality imagery. While Brilliant Earth is similar to other online ring vendors in this regard, the sheer size of what they offer is seemingly unmatched. There are hundreds of permutations of rings, bands, stones, and styles to pick from and you can design your own or get guided help by looking at options that others have found helpful.
Brilliant Earth's biggest competitor is James Allen. Their sites, designs, shipping/refund policies, and selection are similar. Brilliant Earth might be slightly more expensive, but their product category is second to none.
---

With Clarity specializes in affordable rings that are high quality but made for men that don't want to break the bank by selecting an engagement ring. In general, With Clarity skews towards more affordable products, though they do have some diamonds in the tens of thousands of dollars.
They offer customization and preset rings. The present is ideal for those guys that don't want a high degree of customization and know the general attributes they value in a ring and are ready to buy it. Building your own is a different approach: these rings enable you to customize different aspects of the ring (band material, diamond shape, cut, and so on) so that you have a say over exactly what you are buying.
A nice ring on the site can come in under $4,000 with a high degree of customization and precision design. With Clarity has some features on its site that make buying a ring enjoyable. You can, for example, adjust every aspect of the ring, including the price, the carat size, the color of the diamond, as well as the symmetry, polish, and fluorescence. Very few other vendors that sell rings online enable this degree of customization of the diamond itself. During the customization workflow, you can select natural or lab-created diamonds and add an engraving.
One hugely important thing that With Clarity offers, and we support, is discounts for Military & First Responders. So if you are in the military, or are a nurse, or a first responder, you can save money at the checkout by uploading a photo of your identification.
Lastly, With Clarity has a broad array of payment options. This is important to note and also helps you understand that whatever your financial position, With Clarity is willing to work to get you the ring of your dreams. You can pay with all major credits cards or a bank transfer (these are not unique but worth noting). But they also offer interest-free financing and split payments. These last two are less common in online engagement ring procurement so worth calling out. If you need help financing your purchase, With Clarity can assist.
---
Our Rating: ⭐⭐⭐⭐ 4/5
Zales.com is one of the top destinations for purchasing engagement rings and other jewelry pieces. Founded in 1924, Zales has maintained a legacy of quality by offering customers an unbeatable selection of high-quality diamonds and other precious stones.

In our interactions with Zales, one of the things that stood out was how extensive their jewelry selection is. They have a beautiful range of engagement and wedding rings from which to choose. To assure customers that they only offer high-quality diamonds, their diamond stones come with an International Gemological Institute (IGI) certificate. You may also have your Zales diamond authenticated by an expert to ensure you acquire an excellent gem.
Another feature about the Zales website that stands out is their 'create your own' tab, which allows you to personalize your own ring. You can design your own engagement or wedding ring or order jewelry that is tailored to your requirements.
Zales offers a 30-day return and exchange policy, which makes it possible for customers to return items within 30 days of purchase. Exchanges must be made within 60 days of purchasing the jewelry or the shipping date. The jewelry has to be in satisfactory condition and be accompanied by all the original accessories and certificates for this policy to be employed.
---
Our Rating: ⭐⭐⭐⭐ 4/5
Jared.com is an ideal place to buy an engagement ring due to its outstanding customer service, unbeatable selection of diamonds, and commitment to providing ethical jewelry.
Jared is a company that operates both online and in-store, with over 274 physical stores throughout the country. One of the factors that set Jared apart is the use of high-quality natural diamonds or lab-grown stones in their ring pieces. They use environmentally friendly methods to obtain their natural diamonds. Their diamonds come with GIA certificates which demonstrates they are of high quality. You can personalize your ring from Jared with symbols, engravings, and initials.
One thing to keep in mind is that Jared products come with some free services as well as a lifetime guarantee. They provide a wide selection of jewelry pieces at affordable prices, ensuring that you get good value for your money. They are so confident in their goods that they deliver a price match guarantee on diamonds. What this means is that they'll match the cost on a similar or comparable certified natural or lab-created diamond with the same characteristics and quality.
In addition, Jared's rings come with a lifetime guarantee, ensuring that your jewelry can last a lifetime. They have a 30 day return policy. On the website, there are photos for each ring to give you an idea of what you'll get when you make a purchase. The shopping experience is very pleasant and their website has a helpful FAQ section as well as an educational site with additional details about the jewelry they offer.
To summarize the benefits of Jared:
Price matching
30 day return policy
Environmentally friendly diamonds
Mix of online and off-line stores
---
Our Rating: ⭐⭐⭐⭐ 4/5
Kay's large selection of engagement rings and wedding bands along with its' many retail locations for support makes it a very safe place to buy an engagement ring online.

Kay Jewelers is another company that we would recommend for your online ring purchases. This company offers a lifetime guarantee on all of its sapphire, emerald, ruby, and diamond jewelry. Only when the ring is inspected every six months is the warranty valid.
They also offer a stone replacement guarantee, which means that if a diamond, emerald, sapphire, or ruby breaks, chips or gets lost due to being loose in its original setting, they can replace it. This is only if the damage is due to normal wear and not if you have caused the damage through activity. They have a 30-day return policy, which allows you to return a ring within 30 days of purchase if you are unhappy with what you got. You can also swap it for a new item if you deliver it to any Kay location within 60 days of receiving the ring.
Kay Jewelers also provides a diamond trade-in policy that allows you to exchange your diamond for one that is at least double the trade-in value. The policy only relates to natural diamonds and not diamonds made in a lab. You can bring your diamond or gemstone jewelry to any Kay Jewelers location for a free cleaning and lifetime inspection.
To summarize the benefits of Kay Jewelers:
Diamond trade-in plan
Lifetime guarantee on all of their sapphire, emerald, ruby and diamond jewelry
30 day return policy
---
Our Rating: ⭐⭐⭐⭐ 4/5
Oui is an online store that has affordable, beautiful, and customizable high-quality lab-grown engagement rings.

The founder of Oui, Jean Dousset, is the great-great-grandson of iconic jeweler Louis Cartier, and the fit, finish, and style are aligned with modern and classical French aesthetics. The pricing, however, is not. Oui has affordable products, and their diamonds are manufactured in labs.
A traditional fine jewelry brand has to source the diamonds and charge wholesale makeup. If they have a physical store, they likely charge a retail markup too. Oui does neither: they have a cost product for the diamond and a small markup which means that the buyer enjoys extensive savings.
Their products have extensive craftsmanship and are made to order. One benefit of this approach is that each ring is one of a kind. Specifically, Oui features what they have devised a Signature Stone which is a secret "hidden stone" placed under the center stone, visible only to those you tell about it. We love this feature and Oui's enginuity for devising this because one complaint about lab grown diamonds is that they are not unique.
An additional benefit of Oui, and shows how they go above and beyond to help users, is their real-time chat functionality for support and check-out. Many other online jewelry sellers don't offer iMessage chat, but Oui does. If you have an iPhone, you can just chat with them in real-time, much like with your other friends and get help or ask questions.
Lastly, Oui is not trying to always upsell you – something other vendors do at times (bigger diamonds, fancier cuts, etc). Oui has an entire page of beautiful rings under $5,000. That's a great place to start: every ring is affordable, unique, comes with a 3D view, can be financed at checkout, and has a clearly listed carat weight.
If you want to customize your ring, Oui makes that process very easy as well. You can select the precious metal you want (Rose Gold, White Gold, Yellow Gold, Platinum), the diamond shape, and style and Oui will automatically populate a list of rings in your budget with the parameters you want.
Literally, Oui exists to provide great engagement ring options that are easy to evaluate, customize, and buy.
---
Our Rating: ⭐⭐⭐⭐ 4/5
Tiffany & Co. (often called Tiffany's) is a French-owned American luxury jewelry and specialty retailer. They are known for their elite collections of high-quality products at high prices.

Tiffany's sells incredible engagement rings: they are of premium quality but also very expensive. Most men will not be able to afford these high-end diamonds but for those with the means, Tiffany's is among the bar setters for fine jewelery.
Let us tell you about some of the pros and cons of buying an engagement ring from Tiffany's. First, the pros. The products are the best in the world. The reputation and branding of Tiffany's is considered the gold standard of high end luxury retail, bar none. Their products are backed by warranties and by Tiffany's sterling reputation. Moreover, saying you bought an engagement ring from Tiffany's carries serious cache. Lastly, there are Tiffany's stores located in many large American cities and throughout the country. Once you are considering buying from Tiffany's you can easily stop by a physical store to ask questions, do a physical sizing (or re-sizing), ask clarifying questions, and obtain white glove support and customer service. In short, buying from Tiffany's is equivalent to flying first class. They cater towards high net worth and ultra high network individuals and you will be treated as such when buying their products.
There is one additional piece of information to reveal that makes Tiffany's truly unique: they also have engagement rings for men. In some same-sex male couples, both parties where engagement rings. And in some hetrosexual couples, the male wears an engagement ring too. Tiffany's is one of the few online vendors that has "typical" engagement rings for women but also has a selection if the man wants to wear one too.
Now, the less favorable news: Tiffany's doesn't actually carry that large of a selection of engagement rings. If you want a high degree of customization, Tiffany's is not the online retailer for you. Moreover, some of Tiffany's engagement rings can't actually be purchased via their website: rather, you have to call them to place an order over the phone. Tiffany's has 4 different types of rings and then lets you, the buyer, customize the cut, color, carat weight, and clarity. While this might work well for some couples, others will be less wanting more customizations (i.e. of the type of band, alternative gemstones, and so on).
If you can afford an engagement ring from Tiffany's – and don't want to do a high degree of customization – you can visit their site and buy most of their engagement rings in a matter of minutes. To some extent when you are buying from Tiffany's you are buying a ring. To a broader extent you are buying peace of mind: your finance is nearly guaranteed to love it and nobody will criticize you for buying the highest end product.
---
What To Know About Buying An Engagement Ring Online
It is worth restating: internet based jewelry stores provide a much larger range of rings from which to choose, you get great value, and you'll have a better shopping experience. Engagement rings should only be bought from reputable stores, retailers, and companies. A trustworthy website would typically provide comprehensive FAQs, product descriptions for each ring, a clearly defined delivery and return policy, and contact details for customer service purposes.
Since looking at an engagement ring online differs from looking at one in person, it is necessary to learn about the various types of stone options, metals, ring styles, and the Four C's of diamond quality as you pursue web pages. Understanding the color, cut, carat weight, and clarity aspects of a ring will give you a better idea of what your ring will look like.
Let's look at some of the best places to buy a ring online. The ring collection, ordering procedure, customer feedback, and each company's ring prices were all considered.
Frequently Asked Questions
Why are James Allen diamonds so cheap?
James Allen operates entirely online so they don't incur the costs of a brick and mortar store, such as a lease and paying a sales staff. As a result, they also don't have to have inventory on hand. For these reasons and more, we highly recommend James Allen as the best place to buy online.
Is James Allen owned by Jared?
James Allen and Jared are both owned by the same parent company: Signet Jewelers. Signet was founded in 1949 and is a publicly traded company on the New York Stock Exchange.
Is James Allen Better Than Blue Nile?
James Allen and Blue Nile both offer certified diamonds at very competitive prices. Blue Nile has a larger selection of jewelry products while James Allen focuses more on engagement rings and has a larger selection in that field. James Allen also offers free diamond consultations.
Is James Allen cheaper than Blue Nile?
James Allen is slightly cheaper than Blue Nile. This is potentially because Blue Nile has a small footprint in brick and mortar show rooms while James Allen is entirely online. Both companies however, offer engagement rings at significantly lower prices than the larger retailers such as Kay, Jared, and Zales.