Traditional wedding bands are made from metals such as silver, gold, and platinum. This blog covers the best non metal wedding bands for couples who want to look beyond traditional precious metals.
Why Couples Buy Non Metal Wedding Bands
Finding the perfect wedding band to wear as a symbol of your love can be quite overwhelming. While most couples opt for traditional wedding bands that they can easily purchase from reputable suppliers such as James Allen, Blue Nile, Brilliant Earth, and Clean Origin, some grooms and brides-to-be want to explore other options.
Couples choose non metal wedding rings for various reasons:
Uniqueness and Aesthetics
Some people are not just into gold, silver, or other metals. Couples look into best non metal wedding bands because they like the uniqueness of the alternative materials. They offer a different kind of bling.
Safety and Lifestyle
Wearing traditional metal rings can pose some danger for specific activities and jobs. They can be a safety hazard if exposed to electricity, heavy machinery, or contact sports.
Metal Allergies
If you have allergies to certain metals, non metal wedding bands are excellent options. An allergic reaction to metals such as gold or nickel may cause a wedding ring rash. When your skin comes into contact with the ring, the body releases certain chemicals and causes flare-ups.
7 Best Non Metal Wedding Bands And Their Pros and Cons
Non metal wedding bands have become more popular through the years because they are safer and more practical to wear every day. Aside from that, non metal wedding rings offer not only stylish design but a good amount of savings compared to purchasing traditional wedding rings.
Silicone Wedding Bands
If you are looking for affordable alternative wedding rings that you can wear every day, silicone wedding rings are a great choice. These rings, made from synthetic rubber and plastic polymers, are similar to materials used in baby bottle nipples.
Who Is It For?
Silicone wedding bands are a great choice for those who lead an active lifestyle.
Pros and Cons of Silicone Wedding Bands
Pros
Easy to maintain
Durable
Hypoallergenic
Non-conductive
Versatile with lots of color options
Cons
Non-traditional
Will not last as long as metal rings
Where To Buy of Silicone Wedding Rings
Enso
SafeRingz
QALO
Groove Life
ThunderFit
Wooden Wedding Rings
If you're not a fan of diamond rings or gold wedding rings, wooden rings are another great alternative. Made of organic materials, they symbolize a couple's strength and growth as partners. The earth tones give these rings a warm and classic vibe.
Who is it for?
Wooden rings are perfect for couples who want a unique, non-traditional ring inspired by nature.
Pros and Cons Of Wooden Wedding Bands
Pros
Eco-friendly
Hypoallergenic, Nickel-free
Unique
Can have different meanings depending on the wood used
Cons
Resizing can be a big challenge
Can be damaged by chemicals
Needs regular refinishing
Where To Buy Wooden Wedding Rings
Manly Bands
Alpine Rings
Rustic and Main
ElementRing
Northern Royal
Tungsten Carbide Wedding Band
More and more couples opt for alternative materials over gold and platinum for their wedding rings. Tungsten carbide wedding rings are crafted from an alloy made from tungsten and carbon. Untreated, tungsten carbide looks plain, sporting a deep gray tint. However, it can be polished and carved to achieve aesthetics popular among grooms and brides.
Who is it for?
Tungsten carbide rings are for people looking for a bolder choice.
Pros and Cons of Tungsten Carbide Wedding Rings
Pros
Cheaper than platinum or gold
Scratch-resistant
Hard and durable
Cons
Prone to cracking when dropped
Cannot be resized
Where To Buy Tungsten Carbide Wedding Bands
Blue Nile
Zales
Kay Jewelers
James Allen
Jared
Cobalt Rings
The luster of cobalt wedding rings is comparable to platinum and white gold. It is made from cobalt mixed with other metals such as chromium, iron, and tungsten.
Who is it for?
For couples who love white gold wedding rings but looking for a cheaper option that does not require periodic maintenance required by the latter.
Pros and Cons of Cobalt Wedding Rings
Pros
High luster
Looks like platinum and white gold rings but more affordable
Durable and less prone to scratches
Available in other colors such as black
Comfortable weight
Can be cut in case of emergency
Cons
Difficult to resize
Not tradeable
Limited designs
Where To Buy Cobalt Rings
ManlyBands
Revolution Jewelry
Shane Co.
Etsy
Overstock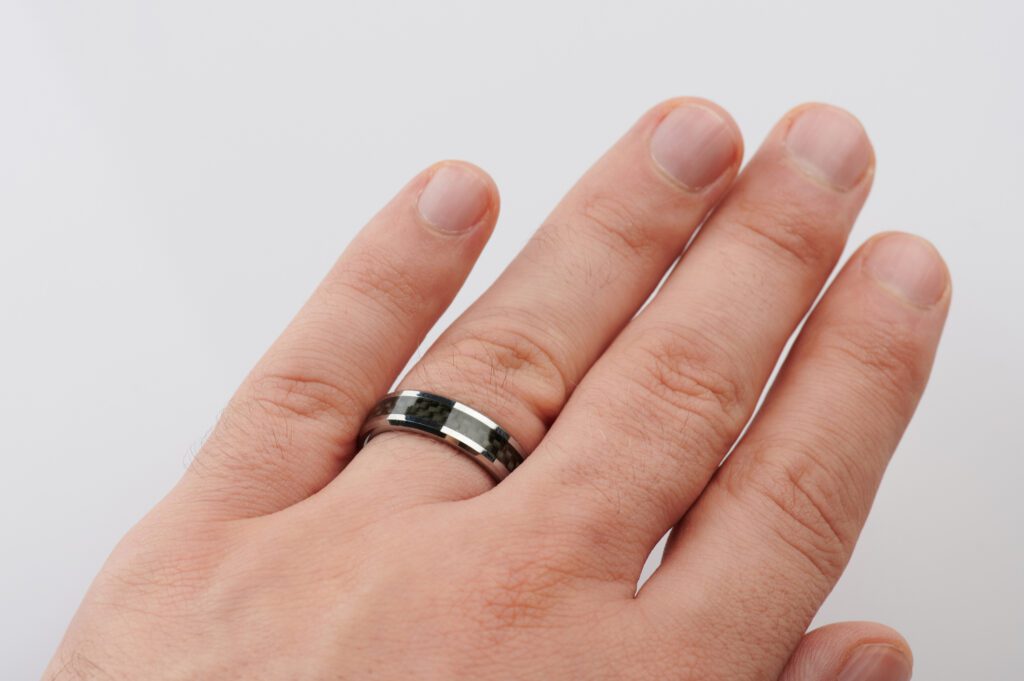 Titanium Wedding Bands
Titanium boasts of high durability and melting point, which is why not all jewelers work with this material. It takes patience and willingness to master the craft to produce great pieces.
Who is it for?
Perfect for couples looking for cutting-edge rings with medium gray to black finish.
Pros and Cons of Titanium Wedding Rings
Pros
Immense durability
More pocket-friendly
Resits corrosion
Cons
Non-precious metal
Cannot be altered or resized
Where To Buy Titanium Rings
Blue Nile
Tiffany & Co.
Minter + Richer
Larson Jewelers
Carbon Fiber Wedding Rings
Another non-metal wedding band making a splash in the wedding scenes is carbon fiber. Yes, that same material used by NASA and race cars, among others. Without getting too technical, carbon fiber is a very strong material made from carbon filaments in composite with polymer materials. Wedding rings can be crafted entirely from carbon fiber or as inlay in metal wedding rings.
Who is it for?
For couples veering away from bulk and heavy wedding bands. Carbon fiber is about three lighter than titanium and about twelve times lighter than gold wedding rings of the same size.
Pros and Cons of Carbon Fiber Wedding Rings
Pros
Lightweight
Incredibly strong
Conflict-free product
Various looks and designs available
Cons
Conductive
Cannot be resized
Where To Buy Carbon Fiber Rings
Revolution Jewelry
Manly Bands
Element Ring Co.
Carbon Fiber Gear
Amazon
Ceramic Wedding Bands
While many may think of tiles and kitchenware when they hear the word ceramic, this material has crossed over to the wedding world. Often thought too fragile a material, ceramic is extremely heat resistant and sturdy. Those who dismiss ceramic rings often have a change of heart when they hear it is actually titanium carbide, a stylish and perfect material for daily wear.
Who is it for?
Ceramic rings are ideal for couples looking for something different, easy to maintain, and something to talk about.
Pros and Cons of Ceramic Wedding Rings
Pros
Less expensive than other rings
Harder than tungsten
More impact-resistant compared to stainless steel
Great variety of finishes
Easy maintenance
Cons
Can't be resized
Can chip
Lacks versatility, less
Where To Buy Ceramic Rings
Amazon
Jewelry by Johan
Larson Jewelers
Etsy