If you're ready to pop the question, are you ready to foot the bill for an engagement ring? Americans today spend between $1,000 to $5,000 for an engagement ring (and there's 7% of the population that spends over $10,000!). If you're not ready to splurge, don't worry, we have compiled the best budget engagement rings you can buy from reputable jewelers online today.
Take note that our list below consists of ready-to-ship affordable diamond engagement rings. Remember, you can actually save further if you custom these rings or time clicking that buy button when these merchants offer special discounts on engagement rings.
Best Budget Engagement Rings Under $1,000
1. 0.3 Carat Excellent Cut Round Diamond On 14K White Gold from James Allen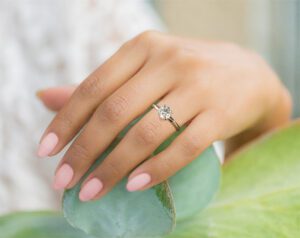 This 2mm Knife Edge Solitaire Engagement Ring with an Excellent cut diamond is from James Allen and is one of the best deals you'll find online. It will be delivered to you with a box and an appraisal.
---
2. 1/3 ct tw Round Cut Diamond On 10K White Gold from Kay.com
Kay is another seller that gives the best deals on engagement rings online. A great example of this is the classic round cut diamond engagement ring set on a stylish 10K white gold that twists to hug the stone. 
---
3. 1/2 ct tw Emerald/Round Diamond on White Gold Engagement Ring From Jared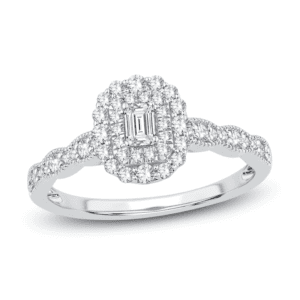 This emerald-cut diamond stone is framed by two layers of round diamonds set on a delicate line to complete the regal vibe of this engagement ring from Jared. 
---
4. 1/4 ct tw Three-Stone Halo Engagement Ring in 10K Rose Gold From Helzberg Diamonds
Your wife-to-be will adore and love this affordable engagement ring with 1/4 ct diamonds. The diamonds are set to embolden the sparkle of the stones. This engagement ring from Helzberg Diamonds has a classic, timeless beauty.
Best Budget Engagement Rings Under $1,500
5. 1/3 ct tw Solitaire Engagement Ring From Blue Nile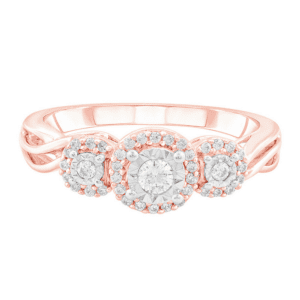 This beautiful affordable engagement ring from Blue Nile has a near colorless diamond set on a six-prong low dome 14K white gold. 
---
6. 1-1/4ct tw Black Diamond In 10K White Gold From Kay Jewelers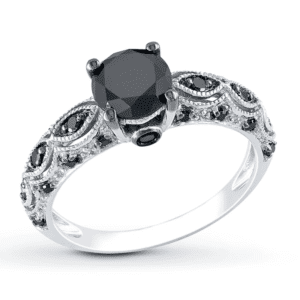 If you want a cheap but unique engagement ring, this one from Kay features black diamonds with a total weight of 1.25 carats.
---
7. Zac Posen Marilyn 1 ct. Engagement Ring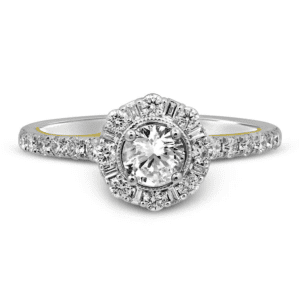 This best budget engagement ring is truly a beauty with 1 round diamond in the center accented by eight baguette-cut and 30 round diamonds. The stones are set in 14K white gold with a yellow gold accent.
---
8. 1.2 ct tw Round Briliiant Diamond 14K White Gold Engagement Ring From Costco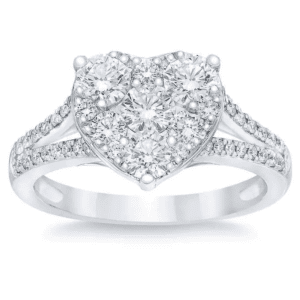 If you're looking for a sparkly heart-shaped diamond ring for your partner, this classic piece from Costco might help win you that forever yes.
Best Budget Engagement Rings Under $2,000
9. 1/2 ct tw Pear and Round Diamond in 14K Gold Engagement Ring From Kay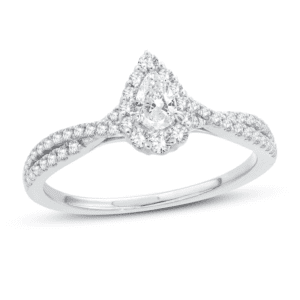 This engagement ring can be crafted in white, yellow, or rose gold. The highlight is the stunning pear-shaped diamond surrounded by smaller round diamonds weaving down the band.
10. 1.21 ct Round Diamond Solitaire Engagement Ring From Clean Origin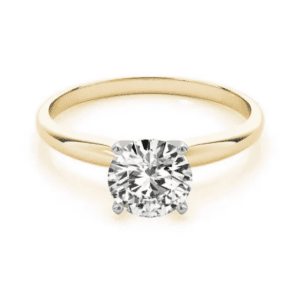 Clean Origin offers this ready-to-ship affordable engagement ring in 14K yellow gold. Clean Origin is known for its lab-created diamonds just like the big one found on this ring.
11. 1/2 ct tw Princess Cut Diamond in 14K White Gold From Zales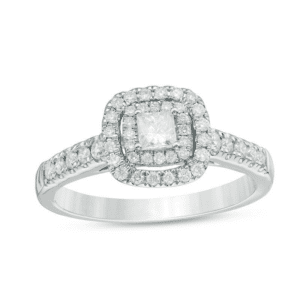 Another great engagement ring bargain is this one from Zales. It will be a good fit if you're planning to propose soon. The center stone is a 1/6 ct princess cut diamond with bright 1/2 ct tw round diamonds adorning it.
12. 1 ct tw Diamond Engagement Ring in 14K White Gold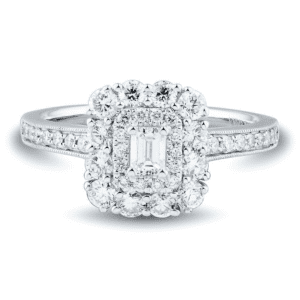 This amazing engagement ring won't break the bank but will win a heart. In line with this thought, Helzberg slashed the price of this double halo engagement ring by a few hundred dollars as of writing.
Best Budget Engagement Rings Under $2,500
13.  1/3 carat Petite Pave Ready To Ship Diamond Engagement Ring From Blue Nile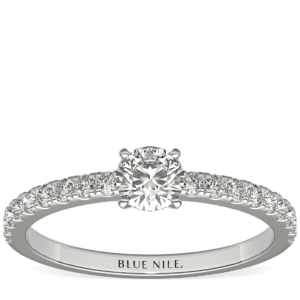 This stunning engagement ring from Blue Nile has a nearly colorless diamond set in a 14K white gold band that is rhodium plated.
14.  Black and White 1 ct tw Diamond Engagement Ring From Jared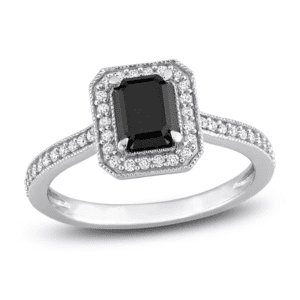 When you say in black and white, you mean loud and clear. The message to your future wife will be as clear and beautiful as this engagement ring's combo of gemstones in emerald and round cuts.
15. 4-Prong Solitaire Engagement Ring 0.2 ct tw Diamond And Orange Sapphire from Brian Gavin Diamonds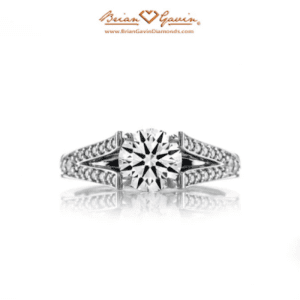 This bewitching engagement ring from Brian Gavin comes with an interesting design inspired by the art-deco era. This solitaire engagement ring is part of the jewelers 810 Collection.
16. 2 1/2 ct tw Diamond Engagement Ring In 10K White Gold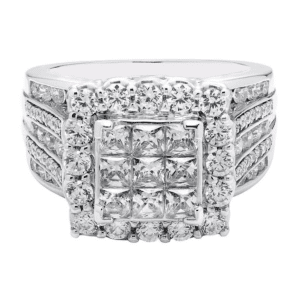 If you want something bold, this one is eye-catching with a multi-diamond design. Nine princess-cut diamonds adorn the center and 68 round ones ensure there's enough bling.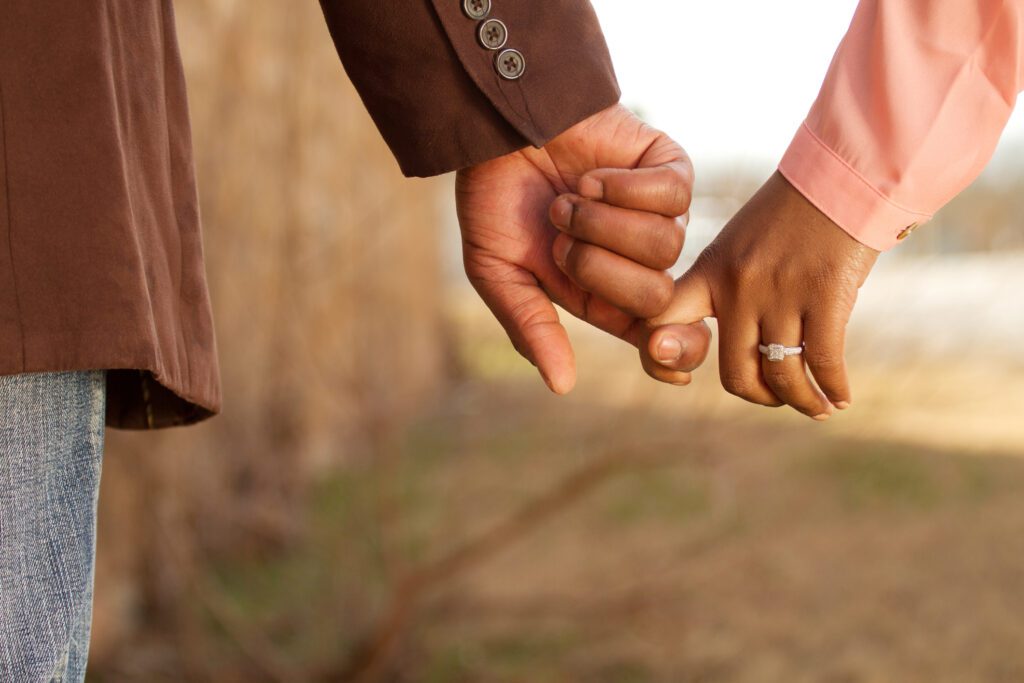 5 Tips When Looking For Budget Engagement Rings
When you're on the hunt for an engagement ring, there are several things to consider. Aside from the budget for an engagement ring, you also have to factor in where you live, your current and forecasted financial situation, other expenses to prepare for the wedding and honeymoon, and what ring your partner might have in mind. So, here are some tips to help you navigate the often overwhelming experience of choosing the best engagement ring for your budget.
1. Set and Stick To A Budget
Many people have dropped the traditional two-month worth of salary as the budget for an engagement ring. Instead, set a realistic one that's based on your current and predicted financial situation.
Do your homework and browse through reputable jewelers and merchants online or offline to know the current prices of engagement rings. Save some money for a few months. Be wise, and don't get into debt just to purchase an engagement ring.
2. Know Your 4Cs
Know the 4C's: Cut, Color, Clarity, and Carat, if you're set on getting an affordable diamond engagement ring.
The cut translates to the sparkle of the diamond. A well-cut diamond handles light really well. Ching! And you will get that yes while on your knees with the best cut diamond you can afford.
3. Shop Around
Although you're confident that you know the 4Cs, do not fall in love with the first cheap diamond engagement ring you'll find. Still, Do not click that buy without doing your due diligence. Your extra effort will be rewarded if you can find the same quality (or a better-quality) diamond engagement ring at a better price.
What you're after is not just a good deal on an engagement ring, but the best quality that will give you value for your money. In the end, that will make you happy with your purchase and make your girlfriend your fiance.
4. Make Your Woman Happy
Diamonds are women's best friend, but if you do not have the fortune to spend on a lavish engagement ring, it's totally fine. The love of your life does not plan to bankrupt you just to get the engagement ring that she has been dreaming of. What's important is you exert some effort to find the best engagement ring you can afford.
Make sure you have an idea of the engagement ring your girl has in mind. Talk to her family or closest friends before you shop. Additionally, there are online tools that can help you build the ring and see if it fits your budget. Also, remember that your woman will be wearing the ring every day and she'll be a proud girl to show that off to the whole world no matter what.
5. Buy The Best Budget Engagement Ring From A Reputable Jeweler
If you're buying an affordable engagement ring, only get it from a reputable jeweler or trusted retailer. Finally, once you've done your research and the ring ticks all the boxes, then go for it!