Shopping for a 3 carat engagement ring is an exciting yet daunting process. Most people tend to do this by themselves or with the help of a trusted friend since most proposals are planned in secret. Having help while browsing for the right ring is great and all, as many details can easily slip your mind. Everything from price, cut, shape, and quality are all important factors to consider before buying a diamond engagement ring.
How Much Is A 3 Carat Diamond Engagement Ring?
One of the first questions people ask when shopping for engagement rings is: how much is a 3 carat engagement ring? This is a tricky question to answer because a 3 carat diamond ring price can range anywhere from $20,000 up to $100,000. That's a very wide price range that can complicate your final choice. Still, on the plus side, it means you can find the perfect ring within your budget.
4 Tips When Buying 3 Carat Engagement Rings
Now that you have a little idea of how much is a 3 carat engagement ring, here are a few helpful tips to consider while browsing for the right ring:
Tip 1: Stick To Your Budget
As mentioned earlier the 3 carat diamond price range is very wide. This can affect your ability to stay on budget because there are so many choices available. Although it would be nice to splurge on the most expensive 3 carat diamond ring you see, it's not sensible if your budget doesn't allow it. Your partner will appreciate any ring you choose if you choose it based on their personality.
Tip 2: Check Diamond Cut Quality
Budget aside, one of the most important diamond qualities to check is its cut. Diamonds are given a cut grade based on their ability to reflect light back. The higher the grade the more symmetrical the diamond is and it will sparkle beautifully. The diamond's cut is graded between Excellent and Poor, opt for nothing below Good.
Tip 3: Color And Clarity Grades Are Important
A diamond's color and clarity go hand in hand. A "colorless" diamond must reflect only white light and they are considered the most ideal out of any color because of their high clarity. The best diamonds are those that reflect no color and show no signs of imperfections inside and out.
Tip 4: Explore Different Shapes
There are more diamond shapes than the traditional symmetric circle cut. Fancy shapes can be just as beautiful and radiant as the industry standard. Don't be shy, maybe try diamond shapes that stand out from the usual.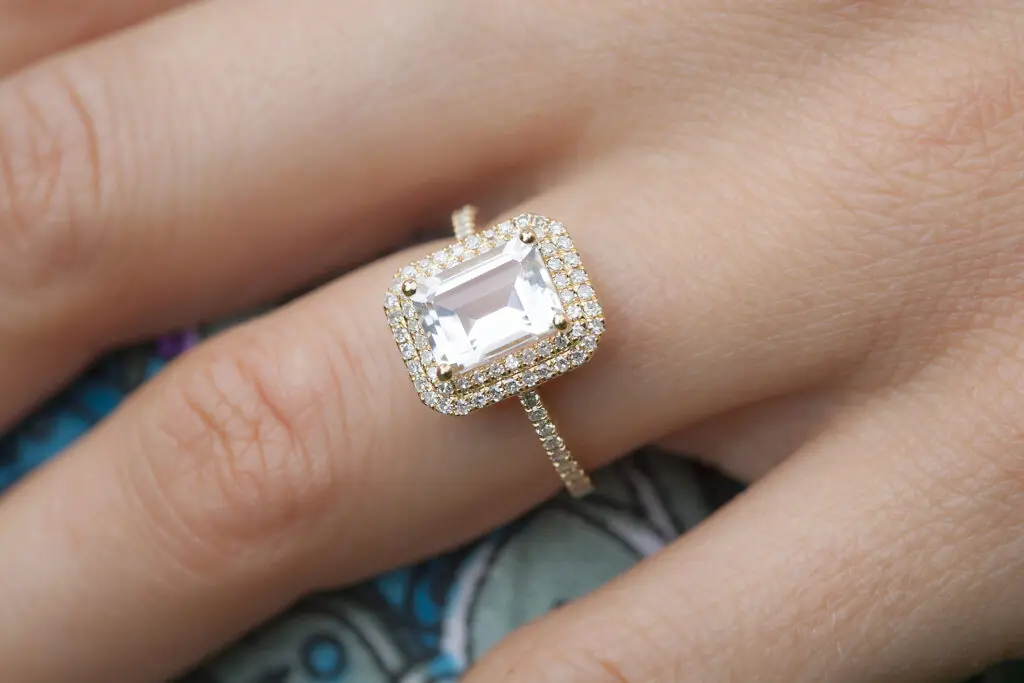 12 Beautiful Examples Of 3 Carat Engagement Rings
Now that you've asked how much is a 3 carat ring and gotten a good answer, it's time to start the search for the perfect 3 carat ring. These are a few jewelers that come highly recommended when it comes to a wide 3 carat diamond engagement ring price range, cut, shapes, color, and clarity:
James Allen
James Allen is one of the biggest and most popular jewelers in the country. Clients looking for the perfect engagement ring can shop online or visit the James Allen showrooms in Washington, D.C or New York. The shop is known to have one of the biggest diamond collections in the world and for allowing customers to customize their rings fully.
3 carat diamond engagement ring price starts from $25,000 for a round-cut diamond only with a Very Good rating up to $52,000 for a round-cut diamond with an Excellent rating leaving you with a wide variety of choices on round diamonds alone. For those who don't want to customize a ring, here are a few great ready-to-ship and budget-friendly options:
Blue Nile
Founded back in 1999, Blue Nile revolutionized the diamond and engagement ring industry by providing clients with high-quality diamonds at fair prices. Blue Nile prides itself on providing customers with all the necessary information customers need about diamonds and rings before making the final purchase. 
Best-selling custom-made 3-carat rings start with an oval cut diamond with a Very Good rating for $18,000 and can go as high as a $140,000 round-cut diamond with an Ideal grade for its cut. While Blue Nile offers excellent ready-to-ship rings, all diamonds with a higher carat than 1 must be customized. Here are the best diamonds to start with:
Brilliant Earth
If you are looking for sustainably sourced diamonds, Brilliant Earth is your best choice. The company aims to create a more transparent, compassionate, and ethical jewelry industry for a brilliant earth and a brilliant future.
At Brilliant Earth 3 carat diamond ring price start with the diamond alone at a budget-friendly price of $12,000 but can go all the way up to $155,000 just for the 3 carat diamond. These diamond can be incorporated into the popular custom ring designs such as:
Zales
Zales is a budget-friendly online jewelry store, but just because they offer fabulous deals doesn't mean the quality is any less. While it can be hard to find diamonds with a higher carat weight, there are still a few 3 carat rings worth checking out:
Choosing a 3 Carat Diamond Ring
Cut
The most important element influencing the price and magnificence of a 3 carat diamond ring is its cut. As a result, we just suggest 3 carat diamonds with perfect and ideal cuts. A diamond that has a lower cut grade lacks brilliance, rendering such a significant investment wasted. As a result, spending a little extra for better cut quality is well worth it.
Color and Clarity have a smaller effect on the price of a 3 carat diamond than Cut. The cost per carat rises as the carat weight rises. Diamonds that have a high carat weight, particularly in a high-quality cut, tend to be more uncommon. A 3.5 carat diamond, for example, will cost anywhere from $24,000 to $110,000. Some can go for as much as $165,000.
Clarity
The next thing to consider when choosing a 3 carat diamond ring is the clarity. Our suggestion for 3 carat diamonds would be a minimum of VS2 clarity. On that level, many blemishes as well as inclusions are undetectable to the naked eye. However, you might find an S1 that has inclusions near the ends. You can find a way to conceal these inclusions when the diamond is on a setting.
Shape
Also consider the shape of the diamond when choosing a diamond ring. Any diamond shape can be used to create a stunning 3 carat diamond. Diamond shape is frequently the first choice people make, based largely on personal taste and design. If size and presentation are significant to you or the recipient, it's worth noting the surface area variation between 3 carat diamonds of various shapes. A certain shape may look bigger based on the table size of the stone.
Conclusion
Any 3-carat diamond engagement ring is an investment. Make sure to find one that suits your or your partner's style and preferences. There's bound to be a ring that fits your budget and needs out there.